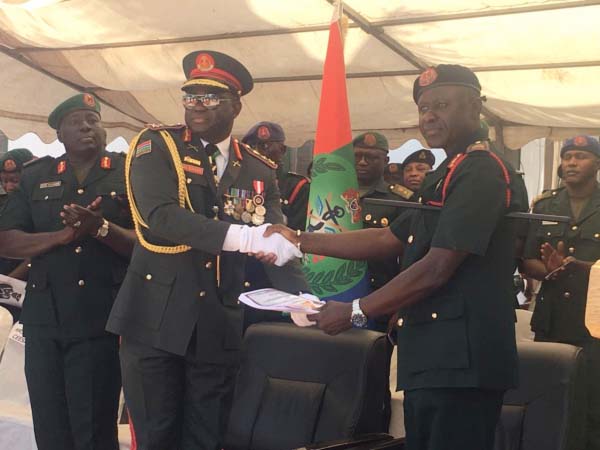 After being relieved of his duty, Lt. Gen. Masanneh N. Kinteh, the former Chief of Defence Staff of The Gambia Armed Forces, has on Tuesday handed over command of baton to Maj. Gen. Yankuba Drammeh.

Lt. Gen. Kinteh was relieved by President Adama Barrow, the commander-in-chief of The Gambia Armed Forces on 5 March 2020.
In his farewell remarks, Lt. Gen. Masaneh Kinteh said when he assumed the role of Chief of Defence Staff of The Gambia Armed Forces, he made sure people understand that Armed Forces was here for them and support the country in democratic transition.
He said that he craved out a vision for a highly transformed, motivated, non-political and non-tribally inclined Armed Forces that is fully equipped and prepared to execute the constitutional roles and contributing meaningfully to the national development.
He cited one of his achievements, saying they have made it possible by creating a Directorate of Peacekeeping Corporation.
His successor, Maj. Gen. Yankuba Drammeh in his statement said, at the advent of the new political dispensation in 2017, the Gambia Armed Forces outlined ambitious and attainable target to restructure the Armed Forces in strict conformity with the expectation of the Gambian people and by extension the international community.
"These strategy decisions are based on strong promises; to have a vibrant, effective and professional armed forces that is transparent, subordinate and accountable to civilian authority. Secondly, an armed forces that is responsive to the needs and aspirations of Gambians and non-Gambians and also armed forces whose actions are firmly butted within the rule of law and other international standards," he said.
"In order to redeem our image, members of the Gambia armed forces must remain apolitical and professionally responsive in the discharge of the well defined constitutional mandate."
He applauded Gen. Kinteh for his outstanding efforts in the Gambia Armed Forces.
Read Other Articles In Article (Archive)