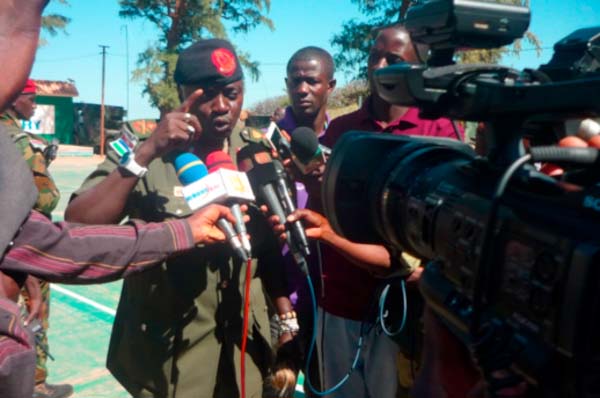 Gambia Armed Forces Chief of Defence Staff (CDS), Brig. General Ousman Badgie, has assured President Adama Barrow that they will provide him maximum security at all time.

CDS Badgie, who made this remark yesterday at the GAF Training Centre, said: "Regarding the security of Barrow and Gambians, let him sleep as we will give him security to the fullest, so that not even a cock will crow behind his back.
"Let President Barrow think of projects he can bring to The Gambia that will benefit the whole nation and the world as a whole, but not security," he went on.
According to him they are an army with a difference.
"Political issues should not be solved militarily," he stated, saying Africans are one and should not allow arms to solve their political problems.
He said: "If we cannot agree through dialogue let us look for other alternatives, but not fight; letting solders killing each other."
He called on Africans to wake up, saying: "I will not kill my fellow brothers and sisters because of politics."
He described life as priceless, adding that they welcome the ECOWAS mission wholeheartedly, and if they even stay for 20 years they will welcome it because it will make the work of the Gambian army easier.
Their stay will decrease the defence expenditure of the Gambia army and give them time to train, he added, while thanking ECOWAS and President Barrow.
He called on Gambians who are still away to come back home, assuring them that the peace and stability they left in the country is even greater now, as there is nothing to fear.
He commended Christians in the country for staying put, as they offered continuous prayers, observing that most of those that ran away were Muslims.
He dismissed claims that Senegalese troops will undermine the security of The Gambia, saying "these are our brothers and sisters, and the more men you have on the ground the safer the country."
According to him, "they will not spy on us, because they have better materials than us".
He also dismissed claims that Jammeh proposed to take him with him, after he (CDS Badgie) approached Jammeh that he wanted to leave with him.
He also denied discussing with those soldiers who left with Jammeh about their departure.
Read Other Articles In Article (Archive)