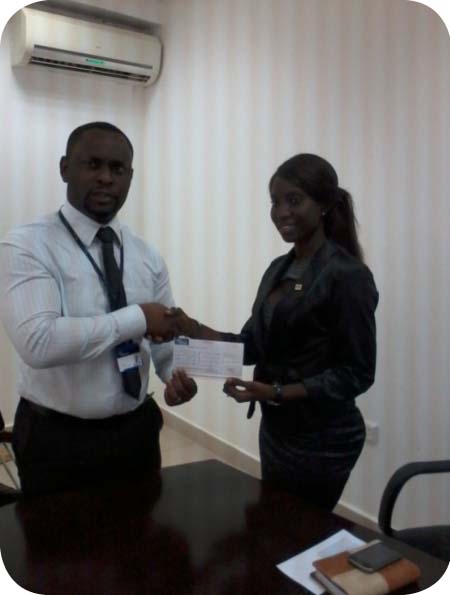 Capital Express Assurance Gambia Limited, a life assurance company recently paid a death claim of D96,446 to Mamat Gaye, a former employee of Sky Bank Gambia Limited, who passed away.
Speaking at the ceremony, Isa R.A. Sowe-Thomas, Head, Corporate/Public Sector, Capital Express Assurance Gambia Limited, said the bank took a product called Capital Express Group Life for its employees.
She saidin the scheme,if critically ill or permanently disabled, Capital Express Assurance will then pay to the beneficiary, adding that the sum is to be paid to the beneficiary of late Mamat Gaye, that is, his wife, one Fatou A. Jasseh through the bank.
She said the product taken by the bank for its employees is one way of helping to motivate staff, as well as give them the adequate peace of mind and help them work well and give their best.
"At Capital Express, we are with you in life and beyond," she remarked, adding that whether 'you are here or not they help keep ones dreams alive.'
In Life Assurance it is a win-win situation, she continued, while describing the payment as one of those times that they are paying genuine claims.
In exchange for a premium from its clients, Capital Express Assurance offers a wide range of life assurance policies and annuity plans, which includes whole life cover, she stated.
The Policy Products offered by Capital Express Assurance includes Individual Life which includes Credit Life Plan, Education Protection Plan, Funeral Expenses Insurance Plan, Mortgage Insurance Plan, Term Assurance Policy and Universal Life Assurance Policy.
Group Life includes Comprehensive Group Life Assurance Scheme, Group Life Assurance Scheme, Guaranteed Tuition Protection Policy and Students' Welfare Insurance Scheme.
Receiving the cheque on behalf of the family of the deceased, Eluwole Leke James, Human Capital Manager at Sky Bank Gambia Limited, described the day as a sad one, but also one for something good for them and the family of their former employee.
He further described the day as one of the important reasons for subscribing to one of the many live cover products of Capital Express Assurance.
They are glad that Capital Express Assurance Gambia Limited has something to help the family of the late Mamat Gaye, adding that though many are afraid of life insurance companies, it very important as they help when their subscriber is in difficulties.
According to him, in the corporate world insurance it is quite important to insure staff lives, medical insurance and all other forms of insurance.
The money would really help the family of late Mamat Gaye, he observed, pointing out that their late employee left a one-year-old son.
Baboucarr Sallah, a member of Sky Bank Corporate Banking Team, described the day as one of renewed emotions, and that no amount of money can compensate for the loss of their colleague and friend, Mamat Gaye.
Sallah noted that the money would help the family to start something, adding that this is one of the good things Sky Bank does for its employees. 
Read Other Articles In Article (Archive)