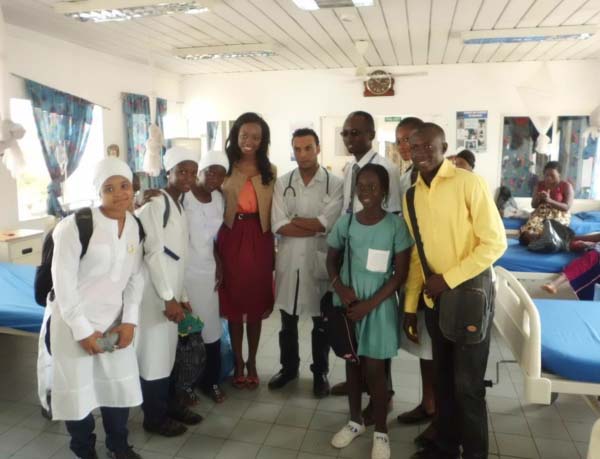 Hello and warm welcome to another exciting edition of your weekly Youth Forum.
In our today's edition we bring you an interview with Fatoumata Ndure, national coordinator of Child Advocacy Network (CAN).
Ms Fatoumata Ndure is a dynamic and promising young Gambian personality whose ability, passion, dedication and hard work to the cause and service of child participation and youth empowerment through active participation in decision-making process to succeed, has exemplified, and in fact proved beyond reasonable doubt that the Government ofThe Gambia encourages child participation and youth empowerment to enable them take up their proper roles in the national development process.
Fatoumatta Ndure, the national coordinator for Child Advocacy Network and news presenter at The Gambia Radio and Television Services (GRTS), explained that CAN is a group under the Children and Community Initiative for Development focusing on children, child right and strengthening children endeavours and activities.
"We believe in not just representing children in terms of what is best for them, but having themselves representing to be advocates," she said.
She revealed that the Children Advocacy Network (CAN) was formed in June 2009 as a platform that brings children together to learn, share and promote solidarity, tribe, race, religion or any form of barrier for the integration of children in The Gambia.
The network works under the auspices of the Children and Community Initiative for Development (CAID) and serves as an advocacy branch, with the aim of actively involving and engaging children in advocacy issues.
According to her, the Child Advocacy Network doesn't just talk about what is good for children, but actually has children talk about themselves and take the lead, as well as implement activities and make decision on what exactly is well for them.
Regarding the recent donation, Ndure stated that they often look into what children would need in the Pediatric Ward and what could make them happy.
"We have been around for quite a while now and every year we concentrate on something and this year is part of our action plan to reach out to hospitals, giving back to the society at the grassroots level and planting trees, among others," the national coordinator for Child Advocacy Network disclosed.
She said the pediatric ward was chosen because like the name of the Network, they are a child advocacy network and their areas of priority are issues affecting children.
"This donation is in recognition of the fact that advocacy alone will not cut it. Concrete actions are needed to be initiated and geared towards fortifying advocacy efforts," she stated.
Because EFSTH is the biggest hospital, a lot of donors thinking in the same vein tend to target it. Yet, EFSTH's size does not take away from the fact that children in other hospitals around the country are as much in need of help, she added.
Alieu D. Badjie, public relations officer of the Serrekunda Hospital, expressed delight at the donation, noting that government could not do it alone.
He assured the donors that the donation would go a long way towards alleviating the plight of the patients, while urging others to emulate the donors by extending helping hands to the ward in particular and the hospital in general.
Fatou Jeng, President of CAN, gave a brief background about the Child Advocacy Network, highlighting the importance of helping their fellow children.
Muhammed Fatty, Vice President of CAN, expressed empathy with the children present, wishing them speedy recovery, and saying he hopes the gifts would make a positive impact.
Read Other Articles In Article (Archive)