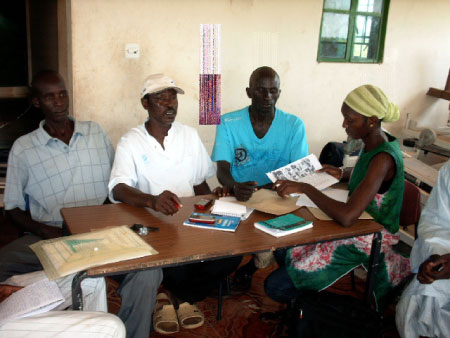 A four-day training session on home-based management of malaria targeting care-givers ended recently at Jamally Ganyado village in the Sami district in Central River Region north.
The program was supported by National Malaria Control Program with funding from the Global Fund, aimed at intensifying national efforts in eradicating malaria in the country.
Speaking to Banna Jobarteh the officer -in-charge at Janjanbureh Health Centre, he said the most vulnerable groups are the children under five years old and pregnant women.
"In rural areas, children experience two or more attacks of malaria per year, and over 95% of the clinical attacks occur during the rainy season", he said.
Jobarteh added that the economic burden of malaria has not been fully determined, but the disease accounts for considerable lost days of production among the adults population, absenteeism from school and work places, and increased expenditure on health care.
Lamin Jarju, community health nurse, Kayai circuit, described malaria as a life-threatening disease caused by the plasmodium parasite that is spread by the female anopheles mosquito in humans.
He added that malaria kills one million people each year, of whom 90% are from Africa, thus those at highest risk are children under-five and pregnant women.
He said reports have revealed that every thirty seconds malaria kills a child in Africa, while at least one thousand children under the age of five die of malaria annually in The Gambia.
According to him, for the past five years, malaria prevalence has declined drastically in The Gambia, according to findings which appear to suggest the possibility of eliminating malaria as a public health problem in Africa.
A substantial shift in the average age of children admitted in hospitals with malaria under five years has decreased, due to the increased use of insecticide-treated nets (ITNs), indoors residual spraying (IRS), environmental sanitation, health education, intermittent preventive treatment (IPT), and new drugs treatment.
Ms Ndey Fatou Sallah, public health officer at Janjangbureh Health Centre, disclosed that malaria as a disease has been in existence for years and, despite the massive sensitization on the subject matter, malaria continues to claim lives of particularly pregnant women and children less than five years old, in the country. 
Ms Sallah called on the participants to advocate for attitudinal change towards using preventive methods.
"Information, education and communication is a key strategy in malaria prevention," she added, and urged the participants to share with their community members the knowledge gained during the course of the training session.
Read Other Articles In Article (Archive)