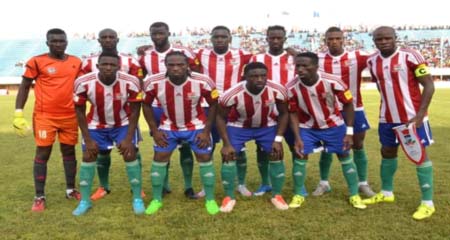 The Gambia has been hit by the Confederation of African Football ( CAF ) with a 5,000 USD (Five Thousand US Dollars) fine for the ' unsporting and offensive behavior' of Gambian home fans during the Gambia versus Mauritania second leg qualifier played on Tuesday March 29 at the Independence Stadium in Bakau.
This decision was reached at CAF Disciplinary Administration meeting held in Johannesburg South Africa where a four-man Committee chaired by Raymond Hack examined all match reports submitted by officials of The Gambia versus Mauritania match, the GFF said in a media release made available to Pointsports.
The officials of the above-mentioned match indicated in their reports that the spectators of The Gambia suddenly became extremely hostile and threw missiles towards the bench of Mauritania, while the referee stopped the game for 3 minutes until the security forces intervened.
In light of this development, the GFF reminds the general public to uphold the spirit of fair play, good sportsmanship and game spirit in order to avoid such heavy financial penalties which are extra burden to the GFF.
Furtherance to this, the GFF brings to your attention Article 83 "Responsibility" para 1 and 2 of CAF Disciplinary Code stipulates:
"1. National Associations, Clubs and Officials are responsible for ensuring that the game is not brought into disrepute in anyway whatsoever by the conduct of their players, officials, members, supporters and any other persons exercising a function at a match at the request of the association or club'.
"2. The host association or club is responsible for order and security both inside and outside the stadium before, during and after the match. It is liable for incidents of any kind, and can be rendered subject to disciplinary measures".
"The GFF regrets this unsporting action and calls on the fans to be in their best behaviors before, during and after local and international football matches for the good of the game which we all love and cherish," concluded the release send by GFF Publicity/Marketing Officer Bakary B. Baldeh. 
Read Other Articles In Article (Archive)