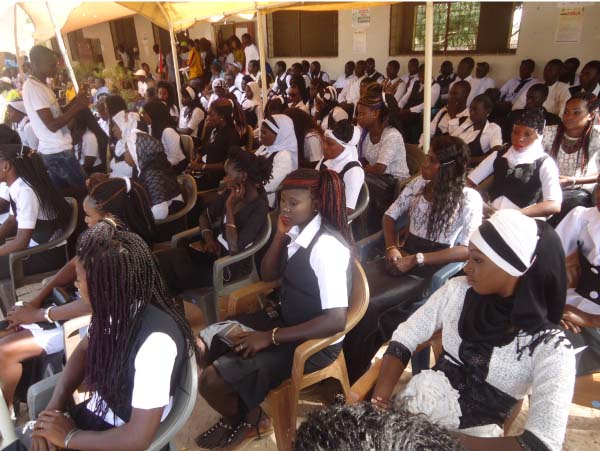 Berending Senior Secondary School in North Bank Region on Saturday held it 5th graduation ceremony for grade 12 students and prize-giving programme for 96 graduates of the school.
This year's graduation theme is: "National Development through telecommunication and information technology".
Sheriff B. Njie, Regulatory Manager at Africell, who was the guest speaker on the occasion, thanked the school for the giant stride in promoting the academic centre of excellence.
He said telecommunications and information technology play a crucial role in accelerating the socio-economic advancement and national development aspiration of the country.
He said access to telecommunication is critical to the development of all aspects of the national economy, such as manufacturing, banking, education, agriculture and government.
Mr Njie said expansion in the telecommunication sector has made it possible for developing countries to participate in the world economy.
He also said video conferencing and multimedia capacities have brought immense benefit on healthcare delivery and the School of Medicine and Allied Health Sciences at the University of The Gambia.
He thanked President Jammeh for creating right policies and procedures, citing the establishment of the Public Utilities Regulatory Authority and the Gambia Competitive Commission in creating liberalizing telecoms market.
He said increase in competition has pushed down cost on sim cards and other services.
Saikou Samusa, principal of the school, applauded teachers and parents for promoting quality learning and teaching, saying the school's performance at the West Africa Senior School Examination has been satisfactory.
He said the school attaches great importance to academic performance, discipline and hard work, extracurricular activities, professional development, monitoring and evaluation to enhance learning and contribute to the attainment of quality education.
The principal used the moment to launch an appeal for the authorities to provide them with transportation to ease the burden on long distance travellers.
He said that in 2011 the first batch of students registered 40% pass with 7 credits; in 2012, 84% pass; in 2013, 76%; in 2014, 67% and in the 2015 mock exam, an anticipated 89% passed the mock exam with 9 credits.
Matarr Ndow, cluster monitor for Essau cluster, commended the school for their steadfastness in attaining a centre of excellence.
He called on outgoing students to be vigilant and maintain discipline at all times.
Gibbi Lowe, Police Superintendent, IT Unit, called on students to be proactive to pursue professional courses at tertiary institutions to enhance the country's human resource development.
He said ICT plays crucial role in improving service delivery.
The best of all the students is Sanusi Camara, who doubled as head boy; the most discipline student award went to Ebrima Camara and the Miss Beauty pageant award went to Fatou A. Faye.
Musa Cham, chairperson of Parents Teachers Association, lauded the management and teachers for their invaluable support to quality education and learning.
He said the parents are proud of the quality of students and their performance in the WASSCE examination over the years.
Read Other Articles In Article (Archive)