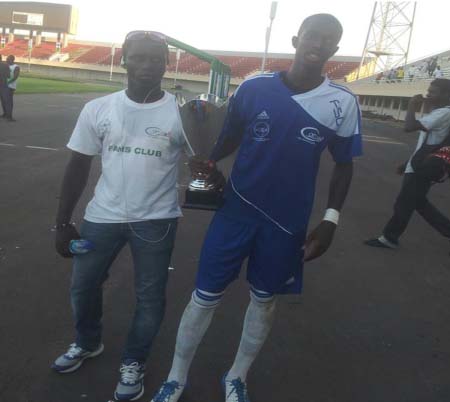 Brufut zonal team were held to a goalless draw by four-time FA Cup champions Gamtel in a well-entertaining friendly game played at the community's biggest football arena, Brufut Football Field.
The friendly game was part of Brufut zonal team's preparations for the 2013 Skye Bank Gambia Limited-sponsored super nawettan zonal football competition set to get underway on December 1, 2013.
The test game was part of the preparations of the telecommunication giants for the 2013-2014 GFF National division one league competition set to commence on 3 January 2014 as well as the continent's second tier football club competition of the 2014 CAF Confederation Cup slated for mid-January 2014.
Both sides made a promising start to the game and launched series of assaults at each other but squandered all of them thus the game ended goalless to share the swag.
Sukuta Zonal team yesterday clashed with the 2012-2013 GFF division one league champions Steve Biko in a friendly game played at the Dembadou Mini Stadium in Sukuta.
Sukuta used the game to prepare themselves fit and ready for the 2013 Skye Bank Gambia Limited-sponsored Super Nawettan Zonal football competition, whilst The Gambia domestic league champions Steve Biko used the test game to prepare themselves physically and morally for the 2013-2014 GFF division one league competition as well as for the continent's elite football club competition - the 2014 CAF champions league.
Read Other Articles In Article (Archive)