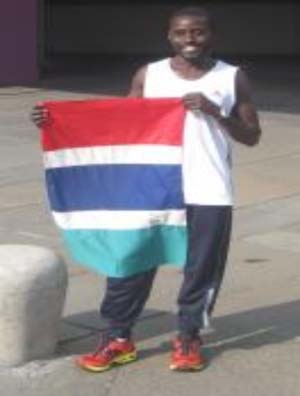 Following Lamin Sanneh's debut race in Scotland at the BUPA Edinburgh 10k on 14 July 2013 he will return to compete in the Forth Road Bridge 10k.
He will be racing in an event limited to 400 entrants as the race is organised by a local athletics club and as a result will be facing the leading athlete's in this region. 
Having proved his ability at this distance having won the Brufut Run 10k 6 times and posted a time of 33mins 38secs at the BUPA Edinburgh 10k just last week, Lamin is hopeful of a good performance. Following this event he thanked his supporters and those who made the trip possible.
We again call upon the Gambian communities in the area to come along and support Lamin on the day.
For detailed updates from Lamin, please follow his facebook page
In addition to racing, Lamin will be using his time in Scotland to meet with other elite athletes so that he can learn new techniques, gain nutritional advice and ways to improve performance through engineered training. 
He will then pass on this information when he returns to The Gambia and has indicated he would like to help develop the Brufut Running Club, which we hope to develop as a blueprint for Gambian athletics. 
He has made provisional appointments with Shettleston Harriers and Central Athletics club who were represented at the BUPA Edinburgh 10k.
Lamin will also be attending the Gambian Cultural Week in Edinburgh, which is being hosted by the Association of Gambians in Edinburgh.
The Brufut Marathon Association will be represented at these events via our ongoing partnering with UK-registered Friends of The Gambia Association (& an NGO in The Gambia) whose membership offers us assistance from the UK. This representation will ensure that the BMA can attempt to form links with organisations in the UK.
We would like to take this opportunity to thank members of the Gambians in Scotland Community Association (GAMSCA), who have assisted Lamin during his stay in Scotland.
In order to make this type of trip possible in future we invite all companies, charities, organisations and individuals to get involved whether you're in the UK, The Gambia or willing to support the development of Gambian athletes from anywhere in the world.  If you would like to help please email martinpm_0@hotmail.com
This current visit has been made possible as part of a wider collaboration between Brufut Marathon Association, Friends of The Gambia Association, Gambian Police Force (of which both athletes are employed by),  Brussels Airlines who donated the return air tickets and Gambian Volunteers Trust.  
Many thanks to all who have made this trip happen.
- See more at: http://www.brufut-ma.org
Read Other Articles In Article (Archive)