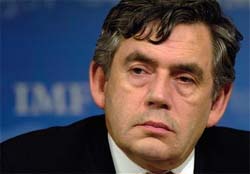 The British Prime Minister, Gordon Brown has apologised to the British public over MP's expenses which had been a bone of contention over the past few weeks, when a detail of such spending were revealed by a national newspaper, called the Daily Telegraph. The paper's editors said the revelation was 'done in the public interest' and will not spare any official involved. Since then commentators, journalists and political pundits continue the debate as to whether such revelation was necessary in the first place, while others supported the exposure and insisted that anyone involved should quit government as soon as possible.
However, in a letter sent to this correspondent a few hours ago, Gordon Brown said: "I know that people are angry about MP expenses. I apologise- on behalf of all parties that the political system has let you and the public down. Whatever party they belong to, MPs should never have spent taxpayers' money on clearing their moats or swimming pools, or paying phantom mortgages-and is even worse at a time when ordinary families are worried about the impact of the recession".
Gordon Brown noted that his Labour Party is ever determined to put things right "not through words, but through action" and added that it is not a time for "papering over cracks but it's time for root and branch reform". The British Premier in his letter further indicated that it's not just a question of paying back money, which is why Labour have suspended MPs who are suspected of wrongdoings.
However, a few days ago, the leader of the opposition Conservative whose members are equally implicated in the newspaper revelation, said that those mentioned in the so-called expense scandal "should face the full force of the law'. It is interesting to note that many of the political pundits earlier indicated that the Newspaper involved is 'sympathetic to the opposition,' thus may spare them embarrassment and humiliation, but it is now evident that the exposure is across all spectrums of political parties.
Nonetheless in his letter, the Prime Minister argues that "now more than ever, families need our help through this recession. Labour will stand by you and your family-not work on by as the Conservatives did in the 1990s'. The Prime Minister also laid down a series of issues, which he said, is willing to do or will continue doing, for example, helping people into jobs. He disclosed that the government will "guarantee a place in education or training for every 16 and 17-year-old and job training for 18-24-years-old who are at risk of long-term unemployment".
In his letter, Gordon Brown revealed that 'in order to help families get through this year, we are giving a £145 tax cut to 22 million basic rate taxpayers, boosting child benefit, helping pensioners with an extra £60, and increasing pensions, savings and child tax credits all above inflation'. Similarly, the Prime Minister noted that in helping businesses with investment, there is a new Tax Breaks that will help firms invest in the future, and over 100,000 firms are being helped with their tax bills.
Gordon Brown also defended his government's support for the European Union and noted that "three million jobs in Britain are linked to our trade with Europe-and more trade abroad means more jobs at home". He alleged that his opponents prefer isolation in Europe, even at the cost of jobs in Britain. However, in recent days the opposition Conservatives contended that they are not opposed to Europe, but need a vote to determine certain treaties.
Whatever the case maybe, the Prime Minister indicated that his party is "working locally, nationally and in Europe to tackle the recession-protecting jobs and homes in the community". Therefore, Gordon Brown said that people should consider voting for his party on Thursday 4 June during the European Election as the choice is clear: "A Labour plan to grow Britain out of recession with help for families and businesses; or the Tory route-help for the wealthiest and cuts to public services at the worse possible time". Gordon Brown believes that together the people 'can fight back against this international recession and can build a stronger, fairer Britain'.
The question many has been asking now is whether the anger of the masses over the expenses is within the ambit and scope of the law or is it blown out of proportion to discredit others. Some commentators even said some of them were an "oversight and mistake" and therefore an apology is enough. Others protested that however big or small the amounts of money involved, MPs must be held responsible for each penny and force to step down.
However, in answering such queries, the Prime Minister revealed to the press that there will be a new Statutory Code of Conduct in place, including an Independent Body outside the Executive or Parliament that would be responsible for looking into such issues.
The Point has learnt that the Kelly Committee is already working on the issue and will submit its report as soon as possible. So far the Prime Minister stressed that people can still make good use of the Freedom of Information Act, introduced by his government to obtain any sort of information they think may be in public interest and to expose them in the public domain.
Whatever the circumstances, the anger of the voters is clear. Which may also be the reason why it is not an exaggeration or an overstatement to say that politicians and officials are very much concerned and worried in a society where government officials are under constant scrutiny and sharp surveillance, by not only a free and vibrant press, but also other concerned citizens and so-called whistleblowers that are fully protected by law.
Read Other Articles In Article (Archive)