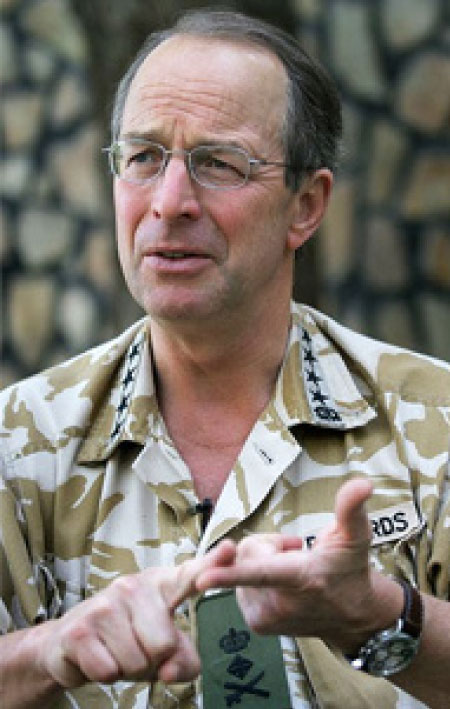 In ten days' time, former colonial master Great Britain will send a team to The Gambia to help train Gambian soldiers destined for Mali, visiting UK chief of defence staff said Friday.
General Sir David Richards, who is travelling to four African states as part of a mission to stabilize the situation in northern Mali, arrived in Banjul on Friday morning and met with Vice President Isatou Njie-Saidy.
Speaking to reporters after a closed-door meeting with the Vice President, General Richards said the purpose of his visit was to further cement and enhance the relationship between The Gambia and the United Kingdom, particularly assisting the Gambia armed forces in terms of capacity building.
According to the UK's military officer, he also came to The Gambia primarily to help the country to fulfill its role in the region by sending an intervention force to Mali to restore peace and normalcy there.
Strong political commitment, he added, was needed to build the structures for a long-term solution to the Malian crisis.
General Sir David Richards was accompanied to the Office of the Vice President by his Gambian counterpart Lieutenant General Ousman Badgie, the British High Commissioner David Morley and senior officials of both armies.
The Gambia, it should be noted, has pledged the sum of US$1 million at the donor's conference on Mali to contribute to the efforts of the African Union to facilitate the deployment of the African-led International Support Mission in Mali (Afisma) and assist the Malian defence and security forces.
In June last year, the National Assembly considered and approved a motion allowing The Gambia to send troops to Mali and Guinea Bissau, as part of a regional force heading to these countries.
Though the exact figure of military personnel to be sent to these countries was not revealed, the Vice President who moved the motion before deputies, said The Gambia will contribute one infantry company for Guinea Bissau and one military police platoon; and an infantry company for Mali.
This, Isatou Njie-Saidy said, was in fulfillment of the country's obligation under the ECOWAS agreement.
Read Other Articles In Article (Archive)