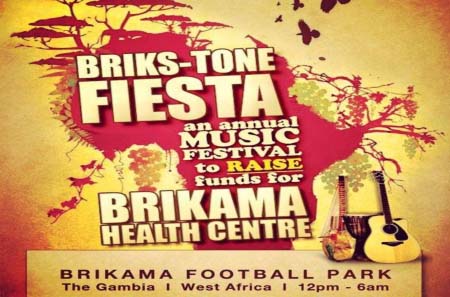 Briks-Tone Fiesta Gambian multicultural and music promoters Badinyaa one Family Promotions Production and Stand Tall Promotion in Glasgow, Scotland will stage 5th annual music and cultural festival dubbed Briks-Tone Fiesta on 17 February 2014 at Brikama Football Park.
The theme of the fiesta is "Promote Health, Enhance Development". The annual music fiesta in Brikama, West Coast Region of The Gambia, is aimed at raising funds for Brikama Major Health Centre as all the earnings is ploughed back to the health centre in recognition of its slogan 'A healthy nation is a wealthy nation'.
The event will be inclusive of all kinds of music comprising both traditional and western music such as reggae dancehall, rap and hip-hop.
The festival will be a day and night musical cultural event and artistes lined up for the event consist of local artistes such as ST The Gambian dream, Pa Bobo Jobarteh and Touba Kaira Band, Tatading Jobarteh and Salam Band, Jalikebba Kuyateh, Balla-Ranks, Badibunka, ENC, Philanthropy, Mighty Joe, Acupuncture, Jula Mohawk Rap Khalifa, Silver Youth, Messiah, Almaska, Kesseng Kesseng Band, Freedom International, Benjamin, Ayolas, Kilo Haze a Gambian uprising in Sweden Stockholm, Tenza Di Boss Lady UK, DJ Masta Lion Finland, and DJ Dee Cee UK.
Alieu Darboe, national coordinator of Badinyaa, told Point Entertainment and Lifestyle that   the aims and objectives of the fiesta including raising funds for Brikama Major Health Centre.
He added that they are trying to take Gambian music and artistes to higher heights and to craft access for local and international artistes to international music promoters and producers.
According to him, the fiesta is also aimed reaching the level of big annual international music festivals like the Sun-Flash in Jamaica.
He noted that the fiesta will bring people living in Brikama and its surrounding and The Gambia as a whole, from different ethnic backgrounds and promote or expose Gambian local businesses to investors the world over.
"We are out to promote and expose the talents of The Gambia to the best of our abilities, giving the new artistes the platform to expose their creativity to the wider audience by sharing the same stage with internationally renowned artistes," he said.
He added that the event also seeks to attract tourists to The Gambia as it will be yet another source of tourist attraction for the visiting tourists to The Gambia.
Sulayman Sanyang alias Marshal Talisman, Chief Executive Officer of Badinyaa, said all is set for the fiesta; the only disappointment they have so far is getting sponsorship.
"Notwithstanding, that will not stop us from venturing into the noble cause of raising funds for our people," said Marshal, who is also a 'Goodwill Ambassador' of the Brikama Major Health Centre.
Read Other Articles In Article (Archive)