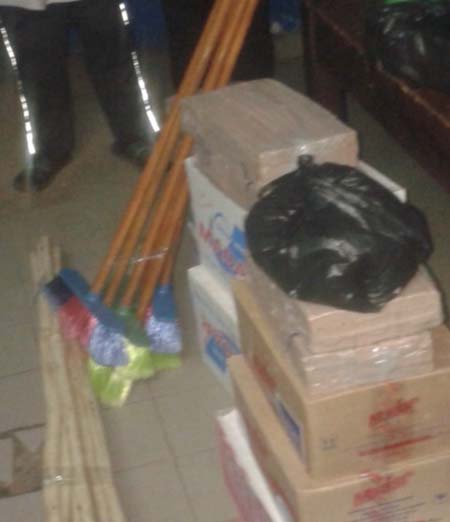 The 5th Briks-Tone Fiesta, an annual and cultural music festival, donated sanitary items worth over D9,500 to Brikama Major Health Centre on 6 March 2014.
The donated items were two cartoons of bleach, two cartoon of Omo, two cartoon of washing gel, fifteen surgical spirit, six long hard broom, six long soft broom, six packets of laundry soap, one cartoon of bathing soap and eight energy bulbs.
Briks-Tone Fiesta was organized by the Badinyaa One Family Promotions Production in Brikama, Gambia and the Stand Tall Promotions in Glasgow, Scotland, at Brikama football field on 17 February 2014.
This year's theme was "Promote health, enhance development". It was intended to raise funds for the Brikama Major Health Centre (BMHC) as part of Badinyaa's endeavour to promote health.
Ebou Corr, Officer-in-Charge of Brikama Major Health Centre, told Point Entertainment and Lifestyle in an interview that "the items will go a long way in addressing the needs of the health centre".
He noted that Badinyaa's contribution to the Brikama Health Centre is recognized and the items will be put into good used for the benefit of the public.
He added: "Five years valuable services like cleansing exercise and donation of sanitary items after the fiesta shows the love you have for your community as a patriotic citizen."
He urged other youth groups, especially in the West Coast Region, to emulate Badinyaa's stance in complementing government's effort at providing quality primary healthcare delivery to the doorsteps of all Gambians.
Sulayman Sanyang, Chief Executive Officer of Badinyaa, said Briks-Tone Fiesta belongs to all African, European and residents of Brikama in particular.
He called on the youths of Brikama to take ownerships of the fiesta as it is complementing the effort of government in quality health service delivery in Brikama.
"With or without us the fiesta and our service to the Health Centre is here to stay; so there is a urgent need for youths to join the cause," he said.
Alieu Darboe, National Coordinator of Badinyaa, called on authorities to continue embracing them in their quest in fulfilling their slogan 'A healthy nation is a wealthy nation', as there cannot be any meaningful development in the absence of relevant and quality health.
"Our wish is to transform Brikama Major Health Centre to a modern health, once we have the strength and support from stakeholders," he said.
He urged the authorities and Brikama residents to join hand in their crusade in health promotion.
He commended all those stakeholders who joined them during the crusade in making the event a reality.
Read Other Articles In Article (Archive)