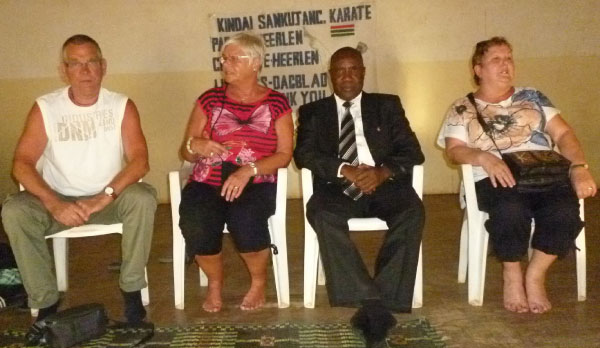 Kindai Sankujang Karate Club in Bakau recently received the donation of Karate materials from two Dutch philanthropists through the Gambia Karate Association at the Bakau Community Centre.
The donation that was made possible following the request by Daniel Edward Badjie, a hotelier working with Baobab Hotel, included mats and judo suits much to the delight of the beneficiaries - Kindai Sankujang Karate Club, who were appreciative of the gesture.
The donors said they were impressed with what they saw on the training ground of the Karate association and the youth category in particular.
The donor Anneke and his wife felt there is the need to motivate Kindai Sankujang Karate Association to take the profession seriously.
"Besides, we have noticed that there is a need to help these youngsters in renovating the training centre of Bakau into a standard one and we will look into the issue and see how best we can go about it when we return.," the couple said.
In his speech on the occasion, Daniel Edward Badjie, whose efforts resulted in the provision of these items, said he is the happiest man on earth given the fact that his dream had come true.
Badjie, the facilitator, said: "When I first discussed the issue with Anneke and his wife, I never thought it will happen in the shortest possible time and I must really thank them for their timely intervention."
He described the donors as action-oriented individuals, saying: "They are the kind of people worthy of trusting.
The presentation was done under the watchful eyes of Musa Coker, president of the Gambia Karate Association, who thanked the donors for their "wonderful initiatives".
Read Other Articles In Article (Archive)