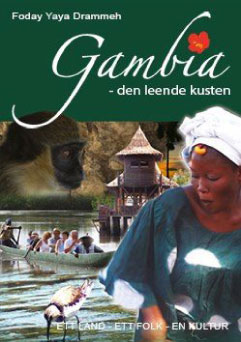 A Gambian researcher in tourism planning and sustainable tourism development, Yaya Drammeh, at the school of economics, business and law, Gothenburg University, has authored an interesting book about The Gambia for the readership of Swedish-speaking friends and Scandinavians in general.
It is an ideal information pack, a tourist guide, or simply for people who are interested in knowing about The Gambia. It is the first and most comprehensive book ever written about this destination in Sweden.
The book provides fascinating information about The Gambia, its tourism product provided by local investors; small, privately-owned hotels, restaurants, entertainment and most of what is special about The Gambia as a foundation to enhance sustainable tourism development in the country.
The book has a local appeal centred on promoting local investment initiatives to support sustainable practices and poverty alleviation in poor communities in The Gambia through tourism.
"We cannot hope for sustainability if we are not showing what tourism is really all about!" the author said.
"We want a large part of the tourism economy to stay in the country; it should also create a multiplier effect in the economy by creating linkages with our traditional sectors."
It is purely based on findings generated from empirical data that was collected in The Gambia in connection with the author's PhD research.
"This well illustrated book with beautiful pictures and maps of every region in The Gambia takes the reader to all significant attractions that can be found in the country.
"The geography, history and culture of the people, and much more the mighty River Gambia is well traversed and adventured here!
"Sights that most tourists never see whilst in The Gambia are well documented in this book."
Learn about historic places, also hit local villages, culture and traditions, artifacts, and much more, attractions that give visitors the experience that tourism is all about; the cultural and geographical distinction between The Gambia and the visitors' places of origin!
According to him, the Swedish version of the book is available in libraries, bookshops and the premises of Gambian Association in Gothenburg, Sweden.
It is also featured with its own home page www.gambiainfos.com. The author is working on the English version of the book and is convinced that the book is a great opportunity for The Gambia to promote itself in Scandinavia.
Read Other Articles In Article (Archive)