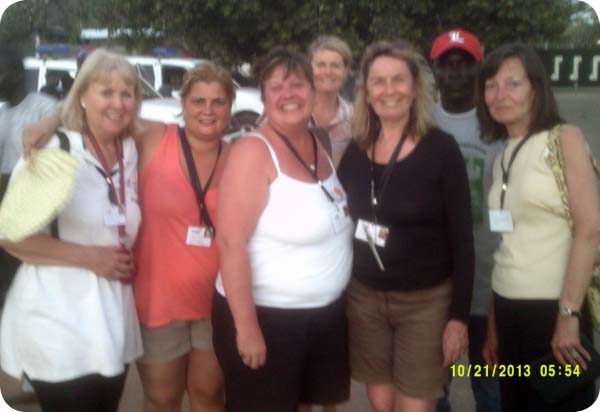 Officials of Big Smile Project-The Gambia, a UK-based charity under the leadership of Saidou Saine and Diana Saine, recently continued their charity work in the country with donation of clothes and medical and agricultural equipment to three villages - Jarra Bureng, Makabala Manneh and Mbolet Ba.
Officials of the project first visited Jarra Bureng village in the Lower River Region where they were welcomed by the villagers led by the village Alkalo and Chief Inspector of Police Lang Fofana, who advised the community to make best use of the donated items as it is not for sale.
Speaking at the presentation ceremony, Diana Saine commended the villagers of Jarra Bureng for the warm welcome accorded them.
According to her, the materials they have for the villagers are not sufficient but are meant just to build the friendship, noting that they would continue to help the village.
She added that they would look around to see areas in which they could help and improve the village development.
Karen Payne, who spoke on behalf of the project, also commended the villagers for the warm welcome accorded them, saying the project would continue to help the village and the people of The Gambia as a whole.
For his part, Saidou Saine, head of the project, said the donation followed a visit to The Gambia during which he met one Mr Saho, who appealed for medication on behalf of Jarra Bureng village.
According to him, he told Mr Saho they could not promise him immediately but would render help the following year. "That is why we are here today to donate some medications," Saine said.
While promising that the project will continue to help the village, Saine appealed to the villagers for a plot of land, which he said will be owned by the villagers themselves and the project will help in fencing and providing them with vegetable seeds like tomatoes, carrot, onions among others.
Hilary Wild, a volunteer with the project, donated D9,000 to the villagers for them to look for a plot of land and name it after her.
In Makabala Manneh village, officials of Big Smile Project donated gifts to pregnant women and clothes to children. They also donated garden tools and some vegetable seeds.
At Mbolet Ba village, the officials were accorded a warm welcome by the villagers with their drums to the village Bantaba.
There, the officials promised to build the village hospital during their next visit to the country.
Read Other Articles In Article (Archive)