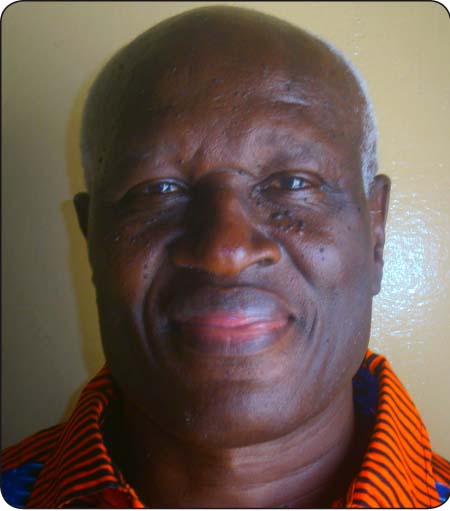 "My son [daughter] pay attention to what I say; listen closely to my words. Do not let them out of your sight, keep them within your heart; for they are life to those who find them and health to a man's [woman's] whole body." (Proverbs 4: 20-22)

God has a reward for those who love Him. "God works for the good of those who love Him, who have been called according to His purpose." (Romans 8:28) He has left out nothing; it is an all-inclusive package. When we know our God, be sure we will rise to the occasion with eagle's wings and fly. We will be able to accomplish what we had never dreamt before; for God's hand is not short.
"If God is for us, who can be against us?" (Romans 8:31) The obvious answer is no one! Now in our moments of trial and hardship we may wonder where God is. I want to assure you that He is right there. It is just that He wants us to use the knowledge we have of Him and about our status to overcome our circumstances. Why? Because He has declared; "Never will I leave you, never will I forsake [abandon] you." (Hebrews 13:5) God is always by our side for the security, protection, guidance and counselling that we always have need of. He is the shade at our right hand. "When you pass through the waters, I will be with you; and when you pass through the rivers, they will not sweep over you. When you walk through the fire, you will not be burned; the flames will not set you ablaze." (Isaiah 43:2) O what remarkable assurance!
Protection all around
God knows the evil one is out to oppress and frustrate us in our bid to return wholly to Him---our rightful place---as His children; more so after we have abandoned his camp and placed ourselves under God's cover. "Your enemy the devil prowls around like a roaring lion looking for someone to devour." (1 Peter 5:8) He is pretending to be all powerful 'like a roaring lion,' the true lion is 'the Lion of the tribe of Judah,' Jesus. (Revelation 5:5) We must "Resist him!" James puts it this way: "Resist the devil and he will flee from you!" (1 Peter 5:8) Nothing could honour God more than when we demonstrate our maturity by standing firm in the faith. It is time that we carry ourselves as victors not victims. "...we are more than conquerors through Him who loved us." (Romans 8:37)
God has declared also that "He will not let your foot slip----He who watches over you will not slumber.......The Lord watches over you---the Lord is your shade at your right hand. The sun shall not harm you by day or the moon by night. The Lord will keep you from all harm----He will watch over your life; the Lord will watch over your coming and going both now and forevermore." (Psalm 121:3, 5-8) If God can determine, and is aware of what happens to a sparrow----the tiniest of all birds---then how about us who are made like Him?
Put your trust in Him
In today's world of television, many have a tendency to believe only what they see rather than what God says it is. But I am sure you do not belong to that group. For you, God's word is paramount and final. So the invitation is for us to "Trust in the Lord with all your heart and lean not on your own understanding; in all your ways acknowledge Him and He will make your paths straight." (Proverbs 3:5-6)
When things may seem impossible, just call on the God of the impossible. For "With man this is impossible, but not with God; all things are possible with God." (Mark 10:27) For at "...the name of Jesus every knee must bow, in heaven and on earth and under the earth...." (Philippians 2: 10) Our God is a powerful God!
Unchangeable God
"I the Lord do not change." (Malachi 3:6) When we know our God we soon realise that He is unchangeable. He is always the same-------yesterday, today and forever. (Hebrews 13:8) Anyone who changes often fits the label of untrustworthy, unpredictable and unreliable. That cannot be the God Jehovah whom king David served.
God takes delight in our worship of Him. When we give Him praise and worship, He is present. "But You are holy, O You who dwell in [the holy place where] the praises of Israel [are offered]." (Psalm 22:3) "May God arise, may His enemies flee before Him." (Psalm 68:1) In God's presence, nothing unholy survives. So before we retire for the night and when we wake up in the morning, we must offer Him praise and thanksgiving. Give Him all the glory for what He has accomplished on our behalf.
Nothing is too difficult for Him to accomplish.
For Someone who spoke the earth into existence, can anything be hard for him to do? He is a miracle-working God. He parted the Red Sea and the River Jordan for the Children of Israel to pass through on dry land. He performed a virgin birth and resurrected His Son, Jesus from the dead.
Know your God whilst you have breath, do not know Him in times of trouble only but also in times of joy. Have fellowship with Him and make it a lifestyle. He is the 'A' and 'Z' of our lives: the Alpha and the Omega---the Beginning and the End.
His promises to us.
He will satisfy your needs. (Isaiah 58:11) The Lord will guide you always; he will satisfy your needs in a sun-scorched land and will strengthen your frame. You will be like a well-watered garden, like a spring whose waters never fail." (Isaiah 58:11)
Know your God, for nothing is hidden from Him.
Read Other Articles In Article (Archive)