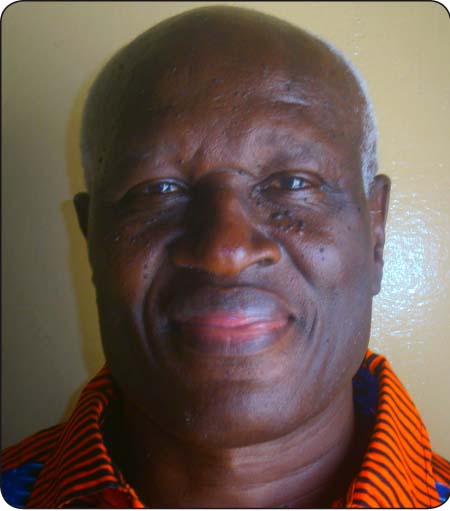 "For just as through the disobedience of the one man the many were made sinners, so through the obedience of the one man the many will be made righteous." (Romans 5:19)

Has it ever occurred to you how that certain jobs tend to fit just one person, as if it was custom-made? All the characteristics of the job at hand literally cry out for that individual. No other person can fill the prescription. In Old Testament days, when God was looking for somebody to carry out a particular task He would find someone who was not necessarily the obvious choice to the untrained eye. It was under such circumstances that looking for a king for Israel, He set eyes on a shepherd boy---the most unqualified among a parade of well-dressed city lads–--all sons of Jesse.
Sin came through the man Adam, and because of him death also. The Bible teaches; "For since death came through a man, the resurrection of the dead comes also through a man. For as in Adam all die, so in Christ all will be made alive." (1 Corinthians 15:21-22)
God had established right from the Book of Genesis that only blood could forgive sins. He Himself demonstrated this when He slaughtered an animal to clothe the couple He had sent out of the Garden. "The Lord God made garments of skin for Adam and his wife and clothed them." (Genesis 3:21) "In fact, the Law requires that nearly everything be cleansed with blood; and without the shedding of blood there is no forgiveness." (Hebrews 9:22)
The Law of Moses had prescribed both the guilt offering and the sin offering for the atonement (covering) of sin. These offerings consisted of a bull, a lamb or a dove without spot or stain whose shed-blood would be poured on the Mercy Seat (which represented the presence of God) in the Holy of Holies in the Temple. Only the chief high priest was entitled to make this sacrifice on the people's behalf and on his.
This practice however was but a foreshadowing of the sacrificial offering of the Lamb of God Himself---Jesus---who would shed His own blood to wash away the sins of the world. As Jesus started His ministry, John the Baptist confirmed His identity to the people standing by; "Look, the Lamb of God, who takes away the sin of the world!" (John 1:29) Blood is a key feature with regard to sin.
Eight hundred years prior to the Messiah's coming, the prophet Isaiah had revealed; "Surely He took up our infirmities and carried our sorrows, yet we considered Him stricken by God, smitten by Him, and afflicted. But He was pierced for our transgressions, He was crushed for our iniquities; the punishment that brought us peace was upon Him, and by His wounds we are healed." (Isaiah 53:4-5)
The perfect sacrifice
".....He had done no violence, nor was any deceit found in His mouth." (Isaiah 53:9) "But you know that He appeared so that he might take away our sins. And in Him is no sin." (1 John 3:5) "Christ redeemed us from the curse of the law by becoming a curse for us, for it is written: 'Cursed is everyone who is hung on a tree. ' " (Galatians 3:13) "He himself bore our sins in His body on the tree, so that we might die to sin and live for righteousness; by His wounds you have been healed." (1 Peter 2:24)
A guilt offering
"Yet it was the Lord's will to crush Him and cause Him to suffer, and though the Lord makes His life a gift offering....." (Isaiah 53:10)
Why is it that only Jesus could pay the price of sin you would like to ask? First, He met all the requirements. "God made Him who had no sin to be sin for us, so that in Him we might become the righteousness of God." (2 Corinthians 5:21) By this He became that spotless and stainless lamb that was the practice over centuries. "But those sacrifices are an annual reminder of sins, because it is impossible for the blood of bulls and goats to take away sins." (Hebrews 10:3-4) Also "He has appeared once for all at the end of the ages to do away with sin by the sacrifice of Himself." (Hebrews 9:26b) He did not have to present Himself every year as did preceding high priests in the Holy of Holies to offer sacrifices for our sins. No! He did it ONCE AND FOR ALL with His own blood.
Hymn writer Cecil Frances Alexander penned these words: 'He (Jesus) died that we might be forgiven, He died that we might go at last to heaven saved by His precious blood. There was no other good enough to pay the price of sin; He only could unlock the gate of heaven and let us in.' (Methodist Hymn Book 180)
Jesus is no ordinary choice. He offered Himself. "Here I am----it is written about me in the scroll---I have come to do your will, O God." (Hebrews 10:7) The good news is that He did it so that you and I will be forgiven, set free; so we would be reconciled with God. No more feeling of condemnation or guilt. We have been set right with God not because of what we will do or not do, but because of the shed-blood of Jesus-–The Messiah---on the cross of Calvary for all. Only He could pay that lofty price.
Read Other Articles In Article (Archive)