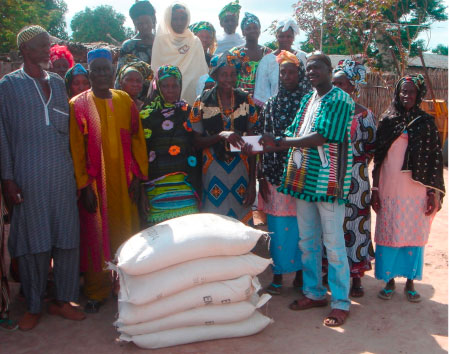 Beakanyang Kafoo recently donated farm inputs such as fertilizer and cash to Beakanyang Sutukonding chapter in Wuli West.
The items were presented at a ceremony held in Sutukonding in Wuli West District of URR.
Speaking on the occasion, Kemo Jatta, Head Chief of Wuli West, commended Beakanyang Kafoo for the timely donation.
He applauded members of Sutukonding Chapter for their hard work and urged them to put the items into good use.
For his part, Nfamara Jawneh, Beakanyang programme officer, in presenting the items on behalf of the organization, said they were motivated by the level of hard work of the chapter members.
"It is exactly about two weeks today since we last visited this chapter and today, thank God, we have the pleasure to present to you at least five bags of fertilizer and D1,000 to support your efforts," he said.
He disclosed that a similar quantity of fertilizer and amount of money will also be presented to Barrow Kunda Chapter in the coming days.
Mr Jawneh further disclosed that their total budget for this year' farming activities in Sutukonding, Barrow Kunda and Medina Koto is D23,600.00 and so far they have raised D9,200.00 courtesy of the Taiwanese Embassy.
"We know that the lands you have in these areas are no more fertile and thus need fertilizer to boost the production yield and that is why we are also intervening," he said.
He appealed for more support for the women and youth in the upcountry, especially those involved in farming.
He also used the opportunity to urge the chief to stand firm on cattle encroachment on the farmlands in the area to maintain peace among the residents.
In receiving the donation, Mrs Manneh Kijera, chairperson of Beakanyang Sutukonding Chapter, expressed their happiness over the donation and thanked Beakanyang for the assistance.
Also among the speakers was Alhagie Moro Gaku, a prominent businessman and community elder who lamented the problem of cattle encroachment in the area as a major setback for agricultural development.
Speakers Mambalo Kajakeh and Nyaling Sisawo, who were all unanimous in their words of praises for Beakanyang Kafoo, also appealed for farming tools and equipment from Beakanyang Kafoo to boost their production into large-scale farming.
Read Other Articles In Article (Archive)