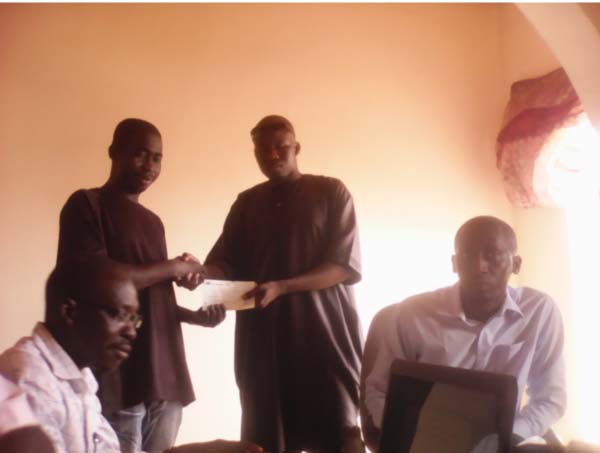 Fifteen youths from across the country on Tuesday received a total of D50,000 as loan to support their small-scale businesses or initiate new ones.
The money was distributed and disbursed to the beneficiaries by Beakanyang Kafo, a youth empowerment civil society organisation headquartered at 103 Kombo Sillah Drive, Churchill's Town where the presentation was held.
The executive director of the organisation, Nfamara Jawneh, said the loans were aimed at empowering the youth and discourage them from taking the dangerous high seas to enter Europe illegally.
Mr Jawneh said the monies were raised through the Kafo's initiative called 'Youth and women empowerment revolving scheme'.
The scheme is meant to give empowerment to youth, both boys and girls, by giving them modest loans that can be used as start-up capital to venture into business.
"The loans are to be used as proposed and beneficiaries are to return the monies within six months," the Beakanyang executive director said.
He also urged big institutions to join in helping young people with capital to start and grow their businesses to better their lives in the country.
Also speaking on the occasion, the executive director of the National Youth Council, Lamin Darbo, called on all duty-bearers and stakeholders to help in the fight to discourage young people taking the 'back-way' to Europe by giving them support to make it in the country.
Mr Darbo said the initiative of Beakanyang kafo is one sure way in which a conducive environment could be created for the young to enable them to make best use of the opportunities in the country.
He applauded the Kafo for the initiative while urging beneficiaries to make best use of the loans.
He said if the monies are mismanaged, not only Beakanyang but also many other organisations who might be considering venturing into such ventures will be discouraged.
Therefore, Mr Darboe said, making best use of the loan will go a long way in helping more young people.
Darboe urged the beneficiaries to liaise with institutions like the Gambia Investment and Export Promotion Agency, and the National Enterprise Development Initiative for entrepreneurial advice.
Meanwhile, the beneficiaries promised to make best use of the loans by using it for the intended purposes.
Read Other Articles In Article (Archive)