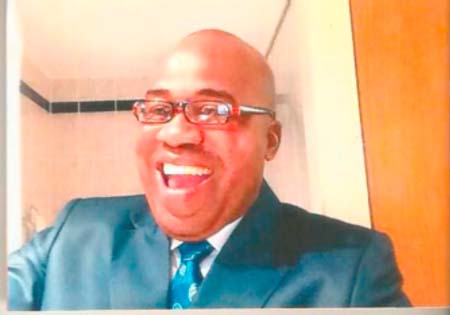 I congratulate the President of The Gambia and the Gambians once again for holding and thrusting stronger and together after a threshold election.

The recently conducted Presidential and Parliamentary elections must have challenged and overstretched your agencies, but we thank ALLAH for the successes and smooth transitions at all levels.
One very victory that so excited and challenged global democratic aspirations was the nomination of a physically challenged woman in The Gambia.
This has become the widest showcase and exhibition for democratic liberty, justice and fairness. In this life, everyone has a right to elect and be elected, a right to vote and be voted for. ALLAH AKBAR, the very one that delivered us recently from the den of Lion, will be there for this country till the very end.
The past elections in The Gambia, and the long stint of the former President in office, aided in producing over 300 500 stateless combatants, dangerous men with illegal weapons who might pose a frightening threat to the national security.
Myriad of the Arab Springs and their attendant unrests swung open the various prisons and jails in Yemen, Syria, Iraq, Libya, Egypt, Tunisia, Algeria, and Lebanon and emptied into our various streets and homes hardened criminals, as there was no country in the face of this world that didn't get her share of these dangerous men, women and youths.
These existing hordes of deadly proxies and their undocumented arms must be monitored, controlled and regulated by a new regulatory agency. This is very urgent as your regime settles down, and it is the dare urgency of this need that necessitated my writing. The level of influence and audacity of the past regime in all sectors of your agencies can not be watered down with kids' gloves. You will need an instant identification, analysis, review and profile of persons, bodies and agencies as quick as possible to identity your real dogs (security phrase) to depict friendship and loyalty.
The task looks herculean but achievable, and everything will depend on what you are bringing into governance. Ensure that only your very loyal professionals are engaged, especially in core critical crime positions.
Appointing someone to an office is a lot easier, but removing him from such position elicits reactions, resistance and condemnations, not only from him but also from his entire family and constituency.
The Gambia on the global tourism scale leads in the Africa tourism race. The country plays yearly host to an average Western tourists of one million or above. Random statistics shows that a total of 6 million, both the African and Western tourists, process through their immigration system yearly, and accounts for forty per cent of the total GDP.
The recent fall of other tourism safe heavens like Egypt, Kenya, Tanzania, Tunisia, Algeria and Ivory Coast has further heightened prospect for more Western tourists to The Gambia in years to come. All efforts therefore must be made to ensure the protection and preservation of the tourism sectors, especially ensuring that these tourists and their undertakers are forever unharmed.
I was in England when the last batches of Thomas Cook, British tourists, were brought back through Manchester in December 2017. I recall this was only precipitated by the minor refusal of President Jammeh to relinquish power to an elected President; no war, no conflict or terror attack, yet BBC glued their cameras focusing on this simple evacuation with so much publicity, which treated the whole world with media extravaganza.
I will end this with a quote from the American Ambassador to The Gambia. Last year during a workshop he had this to say: extremism will surely be experienced in The Gambia; it's only a matter of time.
In my post-graduate studies in England, I x-rayed Osama Bin Laden, Al-Qaida, the Taliban and LTTE of Sri Lanka as case studies, 1, 2, 3 and 4. From what I know and researched about these deadly enemies, The Gambia needs to urgently adjust her parameters to handle the movements of these enemies and the illegal weapons they might want to brandish.
Our airports, presidential fleets, maritime environments and VIPs' security and protection would come under focal points and priority attention.
With the hurried and shameful departure of President Jammeh, and the manner of political coalition that dethroned him, and appointment into various offices by professionals from different backgrounds and visions, security must be a key element in the cardinal programmes of the current tenants of power. As The Gambia goes about these reforms, Africans are fervently praying for the country, that the Gambians will succeed and smile again.
Dr Ifedimma Joseph Sunny Moneke, PhD, Researched Counterterrorism Expert, Manchester, England.
Read Other Articles In Article (Archive)