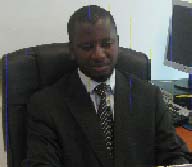 Mr. Bamba Samateh, head of Foreign Operation and Treasury at Bank Sahel-Saharienne Pour L'Investissement et le Commerce (BSIC) Gambia limited, has outlined the causes of the current financials crisis, which he said, has now culminated into global economic recession. He added that it began in the US and now spread to Europe and, gradually to other regions of the world.
Mr. Samateh said that financial markets have spanned across regions to such an extent that distance or language is no longer restricting those with the economic means before they invest resources.
Further dilating on the causes, Mr. Samateh went on to explain that the US is witnessing revolves around the credit and risks. According to him, the problem lies in how credit was traded from one hand to another on the unprecedented scale.
He however noted that credit and house price explosion led to a building boom and eventually to a surplus of unsold homes which cause US housing prices to peak and begins declining in mid 2006.
Mr Samateh pointed out that credit rating has also contributed to the current crises and has therefore come under scrutiny for having given investment-grade rating to mortgage back securities base on risk supreme mortgage loans.
He stressed that the crisis requires a global response at high level; a response by an institution considered and seen as all inclusive and which has a very high degree of political legitimacy.
For his part, Mr. Ebrima Sawaneh, Head, Trade Services Unit, Ecobank Gambia Ltd said there is evidence of major economic crisis existing, spreading and deepening across the global economy.
He maintained that effects of this crisis on developing countries cannot be discussed without making references to the western world where the crisis was created and developed.
"Developing countries depend on the so called developed countries for number of economic activities including, investment, donations, borrowings, tourisms, international trade etc.
"Presently in the western world, people are losing their job; companies are either closing or reducing their productions scale, prices of commodities are falling," he said.
He noted that these conditions have made investors to loose confidence in companies and hence reacted by selling their shares, which further reduces the price of share in stock exchange.
"This also affects the ability of companies listed on the stock exchange to raise capital," he said.
He revealed that the World Bank reports in April 2009, global GDP is projected to decline by 1 .7% in 2009, which would be the first declined in world output on record. The developing countries growth is expected to decelerate to 2.1% in 2009. Unemployment is soaring in many countries. Volume of international trade is also forecasted to decline in 2009 by 6.1% for the first time in 27 years.
He said the International Labour Organization also suggests that up to 30 million jobs could be lost by end of 2009.
The two bankers made these remarks while delivering papers on the causes and effects of the global economic recession at a one day seminar organised by the Nusrat Senior Secondary school commerce club recently.
Read Other Articles In Article (Archive)