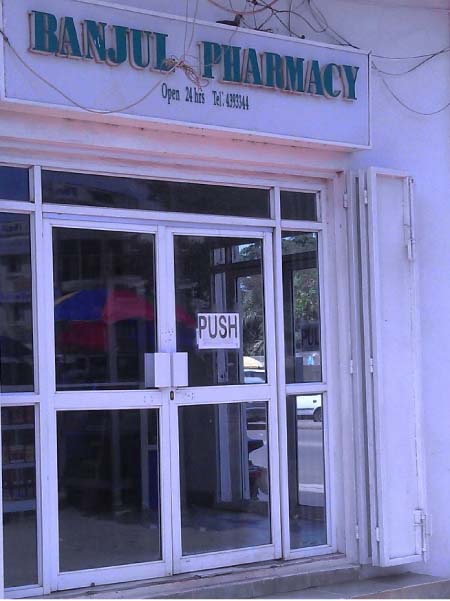 The closing of the Latrikunda Sabiji branch of Banjul Pharmacy was due to "purely business considerations", and nothing else, The Point has learned.
The Banjul Pharmacy branch located in Latrikunda Sabiji has been closed, and our reporter went to find out the reason for the closure.
In an interview with a senior official of the company, Edward Ekwale, who is the administrator, he was asked why the pharmacy company's outlet was closed.
This was after the grapevine reported that the Latrikunda Sabiji branch was closed by the public health authorities, because the pharmacy was selling medicine which was banned, after it caused a fatality.
"This is completely false, and possibly a figment of someone's imagination", Mr. Ekwale declared.
"It is preposterous to even contemplate such. Assuming this were to be true, it would not just be the Sabiji branch that would have been closed but the entire Banjul Pharmacy outlets including Independence Drive, Westfield and Brusubi as the supplies come from one single source", he further stated.
Mr. Ekwale added: "For the avoidance of doubt, Banjul Pharmacy is one of the most reputed and respected health service providers in the country. We take pride in the quality of not just the pharmaceutical products we bring into the country, but also the quality of staff and the physical environment we operate in.
"Our products come from highly reputable pharmaceutical companies; from The UK, Germany, Cyprus etc. All products are duly registered with the Ministry of Health of The Gambia".
It was also said that the taxes on the company have become too unbearable, thus the closure of the branch. To this, Mr Ekwale responded thus: "Again this postulation is untrue. First of all, MFH Group (Banjul Pharmacy) does not consider tax as a burden.
"It is a social responsibility for the provision of services such as roads, hospitals, security etc., and the general development of the country.
"The closure of Sabiji branch was made purely on business considerations that had no bearing whatsoever on tax obligations". 
Read Other Articles In Article (Archive)