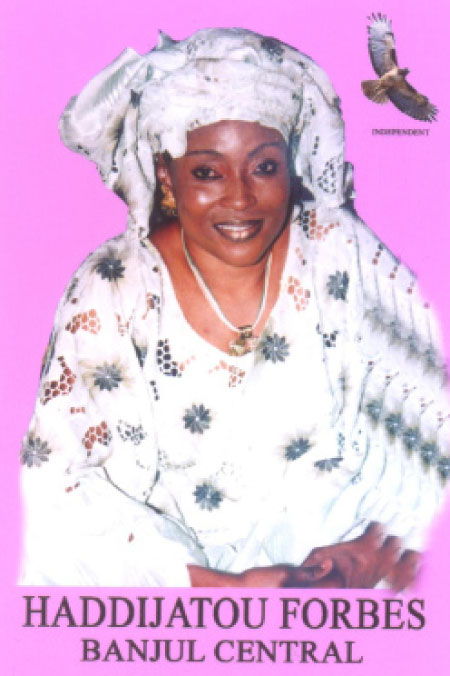 As the race for the March 29 parliamentaryracedraws near, the independent candidate for Banjul Central constituency has outlined her plans for the people of her constituency if elected, stressing in an interview with The Point yesterday that she stood as an independent candidate because the current parliamentarian has not brought any meaningful development to his constituency.
Haddijatou Forbes is standing against incumbent ruling Alliance for Patriotic Reorientation and Construction (APRC) party National Assembly Member Abdoulie Saine, in the polls due in two weeks' time. "I thought of standing as an independent candidate when the news broke that the opposition is boycotting the polls," she told The Point in an interview in Banjul.
"We are the ones who voted for our current parliamentarian; I am one of those who vigorously campaigned for him, but for the past five years, this man has not brought anything in terms of development for the people of Banjul Central," she added.
According to her, the people of Banjul constituency voted in Abdoulie Saine as their representative, and nothing was achieved.
"So what if he goes unopposed, he would not care about us because he will tell us that he was not voted in by anybody in the constituency," she pointed out.
In her view, to bring back the current MP as their representative means taking Banjul Central backwards again because, as she put it, "there is nobody in the constituency who will tell you that he is happy with our current parliamentarian; people are annoyed, and want change".
"After five years, the bridge just near his (current MP) own house is about to collapse. Is he waiting for a disaster before he works on that bridge? I don't think if he cannot do anything within his own vicinity for five years, he will be able to do anything in other areas within the constituency," Forbes further stated.
She told The Point that she came in to work for the betterment of the people of Banjul Central, and not just coming in to be receiving salaries.
"I will be campaigning peacefully through a house to house campaign instead of holding meetings and rallies; the people of Banjul Central know me, and they know what I can do for them," she noted.
She added: "I will not reveal as at now what I plan for the people of Banjul Central if elected to represent them in parliament, but I know that I will be the best National Assembly Member that the people of Banjul Central ever have."
She further stated that she would work towards uplifting the status of Banjul Central constituency. This, she went on, "is what I intend to do if elected; I want to be a sample for the people of Banjul Central, and I'm sure that a lot of people will emulate me."
She called on the women and youth in Banjul Central to rally behind her and vote massively for her, noting that she will not disappoint them because, as she put it, she is here to work for the good of the people of Banjul Central.
Read Other Articles In Article (Archive)