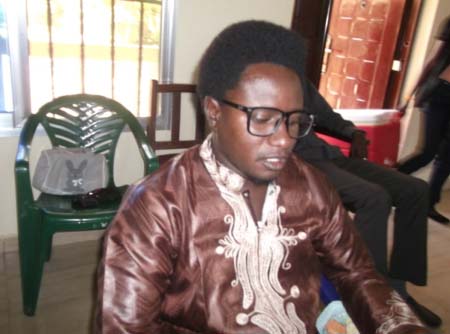 Mamadou Edrisa Njie, director of programmes and Ms Amie Faye director of communications of Biodiversity Action Journalists Gambia (BAJ Gambia), Sunday left Banjul International Airport to attend a weeklong training workshop on Identification and Inventory of Origin Linked Quality Products Capacity strengthening programme for Central and West African countries in Akossombo, Ghana, scheduled to take place from 12 to 17 May 2014.
The training was the third in a series, as the first two trainings were organised for the French-speaking countries in 2013 in Benin and Burkina Faso.
The third training attracted participants from The Gambia, Ghana, Liberia, Nigeria, Rwanda and Sierra Leone.
The workshop targeted farmer organisations, policy makers, local authorities, rural leaders, NGOs and other sectors of society.
The training course was aimed primarily at those involved in the dynamics of territorial development and the promotion of local products.
The two were invited to represent BAJ-Gambia at the training, which would be interactive alternating presentations of concepts, illustrated with case studies, situational exercises and field visits.
At the end of the course, trainees would be able to assess the potential strengths and weaknesses of quality products related to the origin and local know-how, including the importance of the link to the territory, conduct inventories of products that are potentially eligible as origin-linked quality
Products and geographical indications, understanding the specificities of organising supply chains around origin linked products (consortiums) and marketing OLPs develop strategies and action plans for the development of the most promising origin-linked quality products, learn about sources of information on OLPs and develop a network for mutual support.
Speaking with reporters, both Njie and Faye expressed their delight to be selected among 30 worthy participants to attend the training and promised to share the knowledge gained with others through face-to-face discussions, group discussions, and the social media-Facebook, Twitter, LinkedIn and Skype.
According to Njie, quality products related to the origin have a reputation, quality or characteristics essentially due to their origin in relation to resources (natural and human) anchored on the production area.
Representing both a heritage to preserve and differentiation potential in the market, these products could be an important lever for sustainable development.
Njie said the training would take into consideration the specific needs of the participants, given their objectives and context, to prepare them to act as resource persons and key stakeholders in the identification of origin linked quality products and the inventories of such products.
He commended BAJ-Gambia management committee for the unflinching support and urged others to support the organisation in its efforts at promoting sustainable environmental management.
Read Other Articles In Article (Archive)