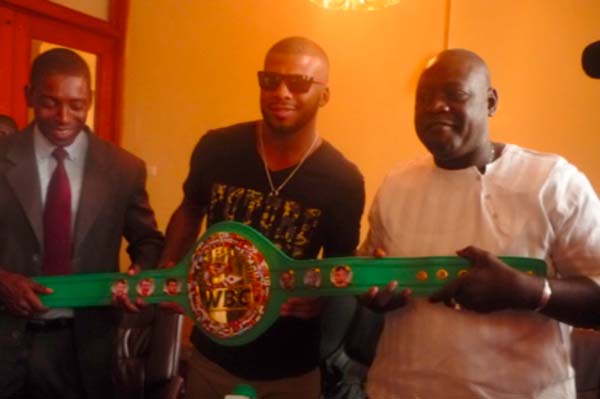 Gambia-Swedish WBC super-middleweight boxing champion Badou Jack has expressed his readiness to support Gambian boxing get to the next level.
The Ripper as he is referred to, said his visit to The Gambia was to see boxers' training to help them with some fighting techniques as well as work and discuss with colleagues about his return to US to provide more equipment and to be sending boxers to training camps, tournaments and possibly also to have a boxing gym in The Gambia.
Badou, who said he dedicated his WBC super-middleweight belt to all Gambians including the President, added that he is proud to be a Gambian.
"I am very proud to be half Gambian," he went on, saying he could not give up one nationality as his mother is Swedish and father Gambian.
He said as an amateur boxer he was able to represent a country but now that he is a professional he represents The Gambia, Sweden and America, as professional boxing is more like representing oneself than a nation.
He stated that one day hopefully he could come to The Gambia to fight. "Hopefully we can make more world champions from The Gambia because if I can do it everybody can do it - they just have to stay out of trouble and focus as well as train hard."
He said half of the equipment he brought were donated by one of his best friends, Smith a former world champion, adding that the equipment would be of help to young boxers.
Jack said it was a huge honour for him to represent The Gambia at the Beijing Olympics.
He also said he has plans to unify his titles and change his weight divisions later this year.
He added that he does not think there is anything wrong with African boxing "as we have got the most talented and best boxers. We only need financial support and better techniques."
The 32-year-old former Gambian Olympian who is currently in his father's home country (The Gambia), arrived on Tuesday afternoon for a week-long stay before an eventual return to his base in the United States.
The boxer, who was handpicked by Floyd Mayweather Jr for the fighter's nascent promotional company, also presented some charity boxing equipment to the Gambia Boxing Association through the National Sports Council for onward distribution to various boxing gyms.
Jack (20-1-1, 12 KOs), retained his WBC super-middleweight title by beating Britain's George Groves in September 2015.
The Ripper qualified for the 2008 Olympics for The Gambia in the middleweight division where he was the nation's only flag-bearer at the Opening Ceremonies.
He started his professional boxing career in Sweden and Finland before relocating to the United States, where he signed with Mayweather Promotions.
Mamadi Ceesay, marketing and sales director of Norga Holdings, said he was happy and proud "we have Badou Jack in the country".
Mr Ceesay described the WBC super-middleweight champion as someone so special looking at the things he has achieved. The equipment he said would help to promote boxing in The Gambia.
Pa Alieu Jallow, president of Gambia Boxing Association, said Badou has and would always make other Gambian boxers follow his footsteps as he is an inspiration.
Badou is someone who has shown boxers and everyone that they can get to where they want in their careers, he pointed out, saying the gifts were timely as the association has not been blessed with many equipment.
"It will as well inspire the boys to work hard for upcoming competitions they are preparing for," he went on while thanking Badou for his generosity.
Marcel Mendy, executive director of National Sports Council, described the day as a great one for The Gambia that "we should all celebrate".
"Badou's coming is an opportune time for the NSC and Gambian boxing as well as an encouragement for Gambian boxers most of whom are young and aspiring to become African and World Champions someday," he said. "Sometimes it is good to have someone to emulate and look up to."
Mr Mendy said further: "We would have been happier if Badou was still fighting in the name of The Gambia but notwithstanding we appreciate what he has done for the country.
"Becoming a Gambian champion is difficult talk less of becoming a world champion; therefore we congratulate him on his WBC super-middleweight title."
The NSC executive director urged other Gambian athletes abroad to emulate Badou for "our sports to easily excel, because in as much as Government is interested sometimes it is a bit difficult to have all that is required to ensure our athletes gets to that top level."
He added: "Next time you come to The Gambia we want to receive you as the World Heavy Weight Champion. We are convinced he has got what it takes though it is not easy to win it."
Concluding, he said: "Be rest assured that anytime you go in that ring every Gambian is behind you."
Read Other Articles In Article (Archive)