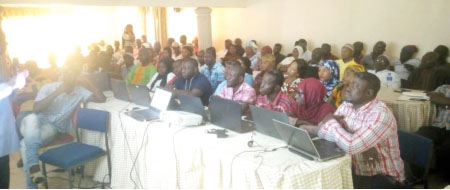 Brikama Area Council (BAC) has kicked off a two-day training for its revenue collectors on new Digital Tax Management System it has just introduced.

The training is underway at the West Coast Region governor's office in Brikama.
The council's management said the new system is meant to enhance efficiency and effectiveness of revenue collection.
Officials say that the transformation from analogue to digital tax management system will serve the council's long term objective by ensuring transparency and accountability in its governance.
Chief Executive Officer Modou Jonga said the primary objective of the digitalisation was to ensure that the council maximises revenue collection in a transparent and effective manner. He added that the purpose of the convergence was to introduce the revenue collectors to the use of the new digital management system.
According to Mr. Jonga, this new digital tax management system is a product of the partnership that the council's 5C energy The Gambia is Swiss based but registered in The Gambia. He also disclosed that the system will be launched on 7 January 2020 at Kairaba Beach Hotel.
"Today, we have started a two days training for our revenue collectors so that we can introduce them to the system and better build their skills and knowledge to become more responsive to the system."
Mr. Jonga also said that the aim was to better enhance their understanding in proper collection and in using the digital tax system and also effective services delivery.
According to the CEO, the new system is paramount to their daily work and for the success of the entire system, it is important that the council introduce them to the system so that they can be well equipped with skills and technical knowhow to be able to operate the digital materials that should be used for the revenue collection which starts in 2020.
He said their aim was to maximise revenue collection in this new dispensation for effective and efficient services delivery as part of the commitment of the management of the council.
He declared that the management of BAC has committed itself to deliver services. "We want to build a very vibrant and responsive council. In order to do that, we will need collective and total commitment of all the key stakeholders."
"This is a collective responsibility. We are committed to making West Coast Region more advanced."
He said the region has the potential to be a model local government area. We are determined and committed to do that. We are just counting on the total cooperation of the public and tax payers to deliver result. We are very hopeful that the five years strategy plan provides a complete answer to the development needs of the region."
Read Other Articles In Article (Archive)