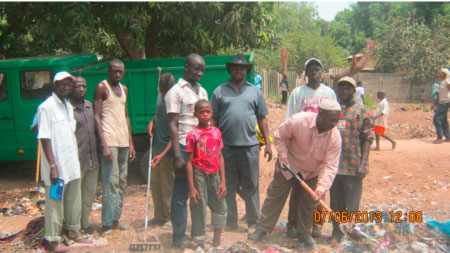 As part of their mandates in ensuring that people live in decent environment, the management of the Brikama Area Council and NDMA during the weekend embarked a massive cleansing exercise at some of the water logged areas in Brikama Nyambai Ward, West Coast Region.
The voluntary exercise was also attended by members of Brikama Youth Organisation, Scout and the community.
According to the Public Relations Officer of BAC and a senior Administrative Officer of the council, Modou Jonga, the water logged areas are one of the major concerns of the community of Brikama during the raining season.
He said during the raining season the community of Brikama, especially around the affected areas do experience flood as a result of the water logged zone.
He said the exercise, which is an initiative of the council ,is in response to the needs and aspirations of the community that they serve in addressing some of their concerns.
He said with this exercise surely it would help in mitigating the effects of disaster within the region.
He also used the occasion to call on the women, in particular to desist from dumping on water ways.
The Chairman of the Brikama Area Council, Bakary Saibo Sanneh hailed the youth and the management of the council for ensuring that the council's mandate is realised in having a decent environment for the residents.
He thanked the volunteers for their massive turnout.
Read Other Articles In Article (Archive)