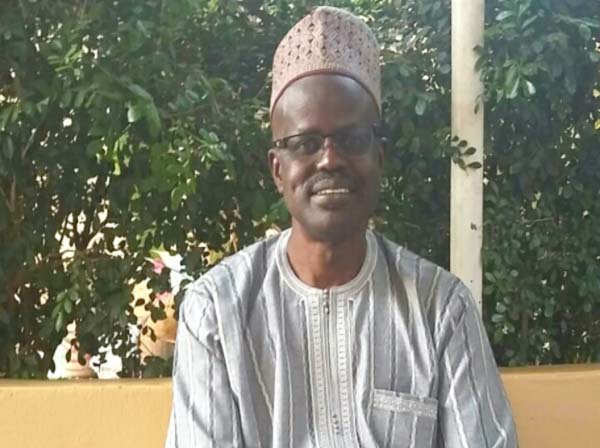 The chief Imam of Kanifing East Central Mosque who is also an award winning human rights activist has said even though the president, Adama Barrow, is not a talkative, he should be talking to the nation on certain current and burning issues in the country.

"Let him talk when it is necessary because there are many issues where it is necessary for him to talk, not any other person but he as the father of the nation," said Imam Baba Leigh who spent years living in exile in America because of his outspokenness during the supressive regime of the former president.
Below we published the edited excerpt of Imam Leigh's exclusive interview with The Point.
Would you accept a position of adviser or any other if you were offered by President Barrow?
I feel like am doing what I am supposed to do and it is the people to decide where I can do best. If I am given a position I cannot do, I will never take it but any position that I can provide help for my nation, really, I will be happy to do it because this is our country and the success of this nation is our success.
Mind you, this is our government; and I am one of the biggest victims of the then regime. So if I have somebody in the name of Adama Barrow or a coalition government kicking out that memory then I will really be ready to stick my life to support that regime. This is the regime and president I am supporting.
And this is the time I want to function because I am also ageing maybe in the next ten years, I cannot do what I can do today.
What do you think of the new current affairs program on GRTS TV dubbed 'Face the nation'?
I really appreciate a forum of that nature. And I feel it should be encouraged. I always commend the anchors of the program. I believe such forum should not be limited to the executives but should be open to all public offices and people of authority in our societies who can help in the process of democracy to prevail in our society.
What is the way forward to drive corruption out?
My only observation and regret is when corruption is discussed in many places, particular in The Gambia, we all point fingers to our law enforcement officers, the police – the traffic police, to be more precise. We always accuse them of being corrupt and I think that should stop. We need to give respect to our law enforcement officers. They are there for us day in and day out; they are running for the security of the society 24/7. And the D25 or D50 they demand at times is not the corruption that people should blow out of proportion. We know the most corrupt people are people at the top, who earn millions for their personal selfish interest. A poor person like a traffic officer standing in the hostile sun earns a salary less than a bag of rice and out of that money he is to provide for his family. If somebody feel like giving them [traffic police] something, then that is just a gesture, a show of appreciation for the job that they are doing and that should not be seen as corruption.
For instance, if you happen to drive recklessly or irresponsibly and you are caught by the traffic police and you feel like bribing them with D50 for you to be allowed to go then you who give the D50 and he who receives it are all corrupt because Islamically speaking, he who receives or gives bribes are corrupt and are the same in the face of Allah.
And we know the past regime had no regard for our security; they reduce them to nothing. We should do away with that. They are our sons and daughters and our brothers. We need to give them the respect they deserve. We should speak for them at least for them to be considered for a better salary that they can maintain their image. You never see a good house or car driven by a police officer unless and until he was privileged to participate in peace-keeping mission and the like.
If not, they keep begging for rides and lifts all over the country. That is a big shame to us. So I am calling the nation to change their image and understanding of our security. People should know they are doing everything they can to protect this nation. Also let us not think that the security officers are all uneducated or are lower level. Every human society needs security as they need medical doctors and other professions.
So I am encouraging this forum to exist and even expand. The minister of justice, Mr Tambedou, has proven to be very qualified in his position and entitlement. He was very eloquent and answer questions in a very nice manner and with respect. I am so grateful of him.
What do you think mainly causes corruption in our system?
I believe corruption is as old as human life but the motivation of corruption always come from three factors: lack of fear in God, poverty and greediness. Gambians today are so greedy. Nobody is satisfied with just one car or a house; everybody is looking for dozens of everything. So if your salary or income cannot provide that for you, you make sure that you find any means possible to get more, which leads to corruption, particularly if the person is in a position of authority. Corruption can be numerous but these are just few to name.
So far what is your advice to President Adama Barrow in the way he runs the country?
Well, during my last interview with you, I said 'do more and speak less'. It became very popular, but now I say 'do more but also say something'. People need to be informed. And information flow is missing to at a large extent in this government. I know our president is not a talkative, he is an action-oriented person but if I am to advise him, I will urge him in certain issues to speak as a leader. Let him speak and take a decision. We are the ones who elected him and we love him and we want him to be our president.
So let him talk when it is necessary because there are many issues where it is necessary for him to talk, not any other person but he as the father of the nation. Let him know he is the president and no one else because listening to him at time gives us more confidence and love, knowing we have a president.
Read Other Articles In Article (Archive)