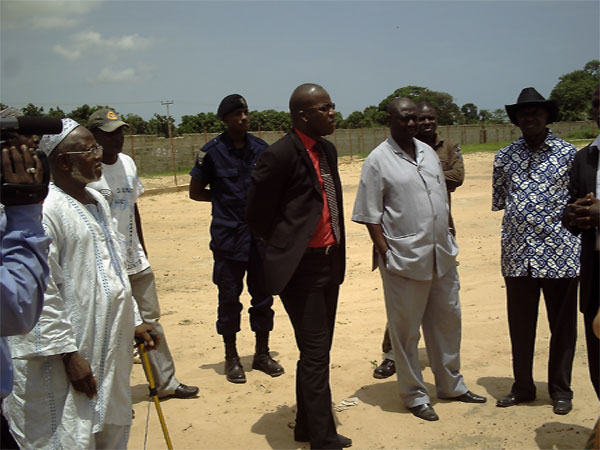 The Secretary of State for Youths and Sports, Sheriff Gomez, has highlighted the need for a national association to link sports with to ensure the sustainable development of their various organisations.
He said, "the problem of our national association is the lack of sustenance in running their problems. This can be averted if they have other avenues to raise funds instead of depending on donors all the time for assistance".
Secretary of State Gomez made this statement during a conducted tour at the Sukuta Youths and Sports Football Field yesterday, as part of an inspection visit on the project sites funded by the Plymouth Banjul Challenge.
Responding to the Sukuta Youths and Sports Chairman Buba Cham on his Association's intention to explore other fund raising avenues that will help to raise funds to upgrade the field, he lauded their plans and urged them to develop more ideas geared towards community and sports development.
The Sukuta Youths and Sports Football field is one of the major beneficiaries of the Plymouth Banjul Challenge, which is meant to develop a perimeter fence and also to plant Bahama grasses in the field.
Secretary of State Gomez commended the Committee on their plans to develop a multi purpose field which is in line with increasing sports facilities in the country.
Buba Cham, President of the Sukuta Youths and Sports Committee, said the first stage of the project, the construction of a perimeter fence, started four months ago. He added that the next phase will commence in November, depending on the availability of funds.
"We are very grateful to the Plymouth Banjul Challenge who assisted us to the tune of D170,504 to implement this project and we hope to collaborate with them on other avenues in future," he stated.
Despite the project not yet being completed, the Sports committee intends to play their Nawettan games in the field and are also going in for a revenue-raising venture by operating video clubs to help run their activities.
The Alkalo of the Village, Alh Momodou Cham Low, described the project as being in line with community development adding that it was made possible through the leadership of the country.
Brikama Youths and SportsMinistadium was also visited as they are also beneficiaries from thePlymouth Banjul Challenge in the amount of D100,000 for the construction of Pavilion roofing, which has almost reached completion.
The Plymouth Banjul Challenge is a charitable organisation working together with the Association of Small Scale Enterprises in Tourism (Asset) and The Gambia National Olympic Committee . It aims to fund youth development and community based projects through the proceeds of the challenge's popular car auction that has been taking place in the country since January 2003.
[if supportFields]>tc "Bakau Nawettan Qualifiers Commence on July 15"[endif][endif]tc "Local Sports"[endif][endif]
Read Other Articles In Article (Archive)