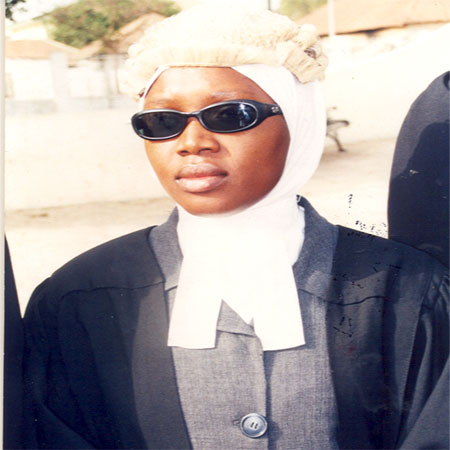 The Attorney General and Secretary of State for Justice, Marie Saine-Firdaus, has lamented that though trafficking of people is a global problem, its economic and social impact on fragile, transitional and developing third world countries is devastating. She observed that such countries could not effectively combat the problem as individual nations. "Human traffickers use different types of operations, multiple financial transactions, and numerous instruments through several intermediaries to beat the system. These sophisticated techniques and processes are employed by these criminals to purposely conceal the illicit nature of their activities and origins of their wealth, a wealth often used to perpetrate their criminal activities," she noted.
In an inspiring speech delivered at the opening of a three- day ECOWAS meeting on the implementation of the ECOWAS Plan of Action to combat trafficking in persons, Secy. Saine-Firdaus said trafficking in persons has become one of the leading transnational crimes that the world is grappling with. This, she stated, is coupled with the enormous challenges faced by some of the Third World nations.
The meeting brought together experts within the ECOWAS sub-region. It aimed, among other things, to assess the level of implementation of the ECOWAS plan of action; the successes registered and the problems and challenges with a view to preparing and improving on common strategies and finding common solutions to a common problem.
According to Mrs Saine-Firdaus, the world needs sustained, consistent and highly skilled personnel training to catch up with new criminal devices, methods and methodologies to ensure that there is no weak link in the chain. "We need to restore more confidence in our region through a robust regional alliance in the fight against trafficking in persons and other organised crimes and institutions," she said. She added that such will doubtless bring an end to unjustified waste of human lives and degraded living engendered by trafficking in persons and its related offences.
For Mrs Saine-Firdaus, jurisdictions with weak or no legal framework or measures to combat trafficking in persons and its related crimes cannot attract the needed investment to foster economic development or reduce poverty because of the reputation risk.
"We are unwavering in our desire and commitment to keep pace with best practices available anywhere in the world," she assured the gathering.
Read Other Articles In Article (Archive)