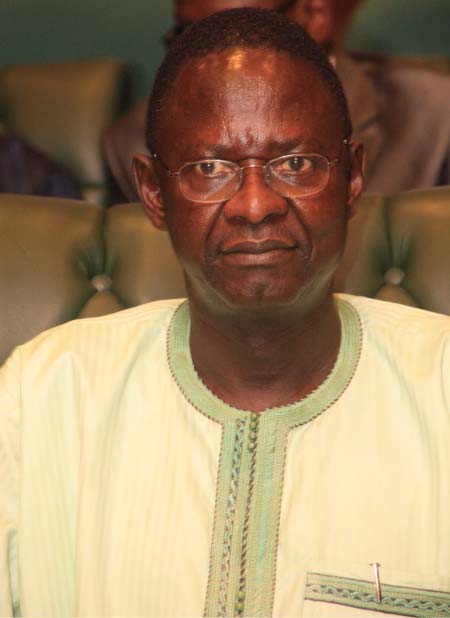 National Assembly members on Tuesday approved with amendments the 2014 Draft Budget Estimates of revenue and expenditure of the Gambia government for the fiscal year beginning 1st January to 31st December, 2014.
The draft estimate was earlier laid before deputies by the Minister of Finance and Economic Affairs, Kebba Touray.
Speaking during the debate on the Estimates before approval, Hon. Fabakary Tombong Jatta, majority leader and member for Serrekunda East constituency, who first called on members to be honest on the budget and the situation at hand, said it is significant after undergoing through the budget to be critical and objective.
He called on all Gambians to look into their weaknesses and move the economy forward, noting that as a government, the APRC is doing all it could for the betterment of this nation.
According to him, The Gambia has the most reasonable medical bills, with a ticket of D5. He stated that before the advent of the second republic, there were only two major hospitals, but now the country can boast of a huge improvement which has been registered in the health sector, thanks to the APRC administration.
Hon. Samba Jallow, minority leader and member for Niamina Dankunku constituency, called on the government to invest more into the agricultural sector.
Hon. Mam Cherno Jallow, member for Upper Niumi, while urging members to pave the way for progress, recalled that in 2011 the country suffered a severe drought, but now tries to move out of that difficult situation.
Noting that there might be issues that have not been budgeted for in a particular year, Hon. Jallow said there should be a way to address them for the betterment and progress of the nation.
While raising eyebrows over the issue of domestic debt, Hon. Jallow expressed the need for this to be addressed to avoid inflation, which he said will be felt by everyone in society.
Also contributing to the debate was Hon. Pa Malick Ceesay, member for Lower Saloum, who commended members of the security forces for what he called a job-well-done, noting that without peace and security, there cannot be any meaningful development.
"Security should not be compromised, because we can only do something successfully when there is peace and stability,'' he said, while also commending the government for the massive investment in the agriculture sector.
Responding to the comments of deputies, the minister of Finance said agriculture and health top the priority of the government, noting that a huge percentage of external funding goes to the agriculture sector.
Touray told deputies that though there are still challenges, but there has been significant progress in the area of maternal mortality and child-birth, among others.
''We want to make sure that we maintain a stable local currency and, to do that, we must know where we are to know where we going to," he said.
Read Other Articles In Article (Archive)