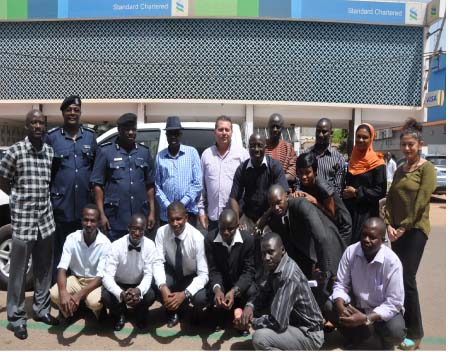 Arresting in Guinea Bissau the woman allegedly involved in the D4 million plus theft case reported by this newspaper yesterday, is proving difficult according to our sources.
It would be recalled that The Point newspaper in breaking the story on Wednesday reported that the international police network, INTERPOL, was informed.
This paper also quoted the police as announcing that "the suspect is currently in Guinea Bissau, and efforts are under way to have her arrested and brought to face justice in The Gambia".
However, effecting arrest is problematic for the Bissau police, because the woman, whose name is yet to be made known by the police, has reportedly taken refuge at the house of an army general in Guinea Bissau.
The senior army officer is said to be her uncle or a very close relative, according to our sources.
"Knowing how things are in Guinea Bissau, getting her is a problem", revealed the source.
Meanwhile, the major crime unit of the Gambia police force has received a new four-wheel JAC pickup vehicle as a gift for acting promptly and recovering almost all the money, when a theft of more than D4 million was reported to the police recently.
The donation was made by officials of Euro Africa Group Ltd, a company which imports and distributes fuel to oil companies in The Gambia.
According to the police, on Monday 2nd June 2014 an employee of the company was sent to deposit US$120,190 (equivalent to over D4 million) at the Standard Chartered Bank in Banjul.
However, the employee chose to abscond with the money. This was reported to the police, who immediately mounted an investigation.
CID officers found out that the accused had told the driver taking her to the bank to return to the office to collect her ID card, claiming she forgot it there.
When the driver left, she called her boyfriend, who drove her to Giboro village on the border with Casamance, from where she left the country.
However, she left with only US$3,000 leaving the rest with her boyfriend, with instructions that she will tell him how to send her the remainder of the money.
The police were able to arrest all the accomplices of the accused person, and all the money was recovered, except the US$3,000 she absconded with.
They said, "in appreciation and admiration of the way CID officers handled a case they reported to them", officials of the company on Monday 16th June donated the vehicle to the police unit, at a ceremony held at Police headquarters in Banjul.
Ralph Matta, a logistics assistant with the company, said "they were impressed by the swift, efficient and professional manner the matter was handled". 
Read Other Articles In Article (Archive)