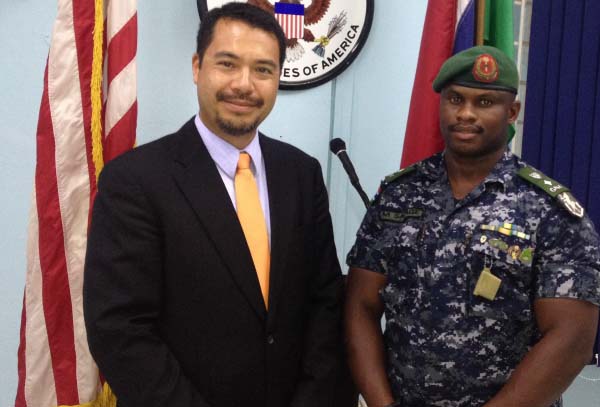 Lieutenant Colonel Musa Savage commanding officer of the 2nd infantry battalion of the Gambiaarmed forces based in Farafenni, departed Banjul for Tuesday 20th May for Garmisch, Germany, to attend two courses funded by the US Department of Defence.
Lt. Col. Savage will attend a counter terrorism language programme (CTLP) for five weeks, followed by a four-week programme on terrorism and security studies (PTSS). The courses will take place at the George C. Marshall European Center for Security Studies in Garmisch.
The courses were designed for government officials, military officers, and police administrators currently working in mid and upper level management positions of counter-terrorism organizations throughout the world.
The CTLP course will enable participants to further develop their English language skills, and also provide familiarization with counter-terrorism terminology in preparation for the PTSS.
The PTSS course will focus on providing participants knowledge about how states can effectively combat terrorism, while continuing to adhere to the fundamental values of a democratic society.
The course also helps participants appreciate the nature and magnitude of today's terrorism threat, develop a common understanding of the definition of terrorism, and establish contacts within the global counter-terrorism community.
The courses will develop a common ground of knowledge, understanding, and contacts among participants - an "intellectual interoperability" - thus improving the ability of national security officials to cooperate internationally to counter the aspects of terrorism that transcend national borders, a press release from the US embassy in Banjul announced.
Read Other Articles In Article (Archive)