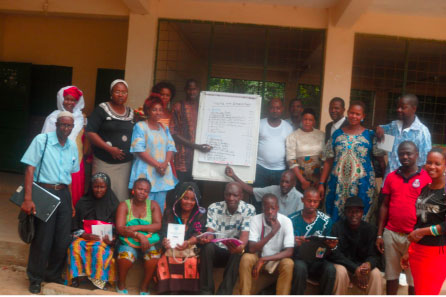 The Gambia branch of the All People's Congress (APC), the ruling party in Sierra Leone, is working on series of initiatives that will make its members independent and self-reliant.
One of which is to enhance their entrepreneurial capacity to be able to establish and manage their own businesses successfully so as to continue to transform their economic status for the better as well as contribute to national development.
From 24 to 26 July this year, the party under its credit union scheme - The Leone-Gambia credit Union - held a three-day workshop at the St. Therese's Upper Basic School compound on Kairaba Avenue.
The well-attended workshop, funded by the Irish Aid of Ireland, was coordinated by the National Association of Cooperative Credit Unions of The Gambia (NACCUG).
The facilitator and resource person was Mr Hamey B. Jawara, programme manager of NACCUG.
Mr Jawara took participants through the main topic of the workshop, which was Financial Literacy. He also deliberated on sub-topics such as types of financial institutions, types of cooperative unions, types of shares, types of account, the pass book and its significance, income and expenditure management, and other significant aspects of business and finance.
In his remarks at the opening ceremony of the workshop, APC Gambia branch chairman Ibrahim Koroma encouraged members to always avail themselves of such opportunities and make the best use of them to develop themselves "since most of the participants are petty traders and teachers".
"It is only the knowledge and what we have and not the handouts we are given that make us different from other people," Mr Koroma said.
The participants, who expressed gratitude for the training given to them, also requested that such workshops are held at regular intervals to further develop the capacity of members.
Fatmata Koroma, one of the participants, said: "The three-day programme was of immense benefit to me as it has empowered me to run my restaurant better."
In his closing remarks, APC Gambia Branch vice chairman Alimamy Dumbuya stated: "Peace and progress cannot be a reality when the foundations that define our minds are not at par with pristine knowledge that is inculcated through proper methods of education like this workshop."
Mr Dumbuya went on to thank the facilitator for a job well done.
The vote of thanks was given by Mr Karlous Kallon, president of the Youth wing of APC Gambia branch.
Read Other Articles In Article (Archive)