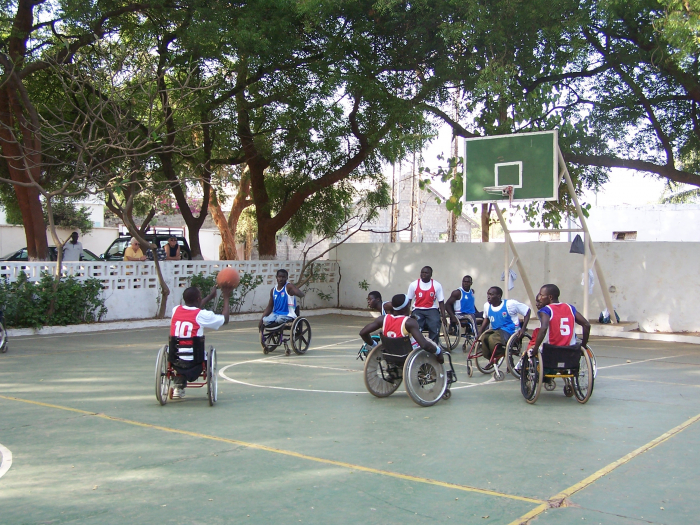 The first annual disability sports event, which will feature Basketball, Volleyball, Goalball, football matches and Wheelchair road races, is billed for this weekend at the Serrekunda West Mini Stadium.
The event, organised by The Gambia Paralympic Association, is meant to promote disability sports across the country and will be a two day affair and will kick off on Saturday July 19th to the 20th.  It is supported by the National lottery through the Big Lottery fund.
Speaking to Pointsports Sulayman Colley, President of The Gambia Paralympic Association stated that as part of that activities marking the event, there will be wheelchair basketball and goal ball competitions on Saturday.
He added that Sunday will feature football and Volleyball matches and a Marathon race from Tabokoto to Serrekunda West mini Stadium.
Colley said the event will give them the opportunity to showcase the different disciplines for a start and hope to increase the number of events adding that trophies will be awarded to winners and runners p
"Disabled people have a role to play in nation building. All we need is support, encouragement and sponsors for our activities at national, regional and international levels.
"Sports for Disabled people is crucial because it helps the disabled persons; to be free from vulnerability in the society as people with disabilities are often isolated and seen as beggars in the streets. There is a lack of awareness of any role they play in national building and they are marginalised," he pointed out.
He stated that if every support and encouragement is given to disabled people in all fields of life, there will be a lot of changes and development for people with disabilities in the entire country.
He seized the opportunity to appeal to the general public to come out in numbers to grace the event as it is free of charge.
He commended sponsors of the event and expressed hope that other institutions will emulate the National Lottery and New World for Youth in London for disability participation in sporting events.
Read Other Articles In Article (Archive)