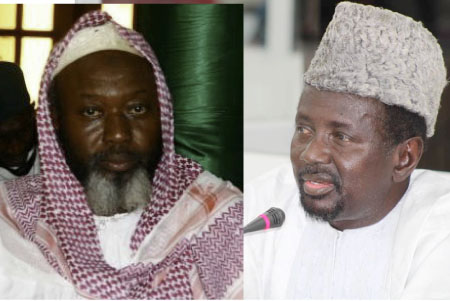 The Amir of Ahmadiyya Muslim Jammat, Baba Trawally, yesterday testified before the TRRC, accusing Imam Abdoulie Fatty for castigating their faith since 1997.

Amir Trawally said Fatty's 1997 Friday sermon suggested that Ahmadis gather at McCarthy Square to convert to Islam or be killed.
"It was then we wrote a letter on June 23, 1997 addressed to the president. We told him that The Gambia has been living in absolute peace and harmony and Ahmadiyyas have enjoyed that but Imam Fatty wanted to destroy it as he kept calling us non-Muslims."
Amir said they were assured by the government that The Gambia was a secular state and that the government would safeguard the religious tolerance. He added that they further assured them that the sermon of Fatty had no way represented the policy of the government.
The Ahmadiyya has been existing in Gambia since 1961, Trawally said, adding he became the amir in 2009 and their relationship with the government of the first republic was very cordial.
He said when the world wanted to declare Ahmadiyyas as non-Muslims, it was Sir Dawda who defended them and said the Ahmadiyyas in his country are Muslims because they are building mosques and praying.
Further talking about Fatty, he said: "His belief is that we are not Muslims. But that is not true because according to the Prophet (SAW), anyone who declared itself to be a Muslim is a Muslim. Only Allah knows what's in the hearts of others and nobody or government can declare a person non-Muslim."
He said Fatty went further to the media and said Ahmadiyyas should be banned; adding that Fatty should be the person to be banned because he is a foreigner.
The witness recalled that the government had one time expelled foreign Ahmadiyyas from the country, but were later allowed to come back.
He added that their Radio and Television programmes at GRTS and other local media were stopped because they were told to contact the Supreme Islam Council (SIC) for approval.
"We are not members of SIC because we were not invited to join. They just existed in 1991 and we were in existence since 1961, so why shouldn't they contact us."
In July 2000, he explained that their mosque in Wuli was demolished and the government took the matter to court. According to him, the court ruled that the mosque should be built within 60 days.
On a mosque built in Sarre Ngau in 2011, he testified that the former governor of CRR Ganyi Touray and the president of SIC Muhammad Lamin Touray ordered the demolition of the mosque.
On Dr. Zakir Naik's visit to The Gambia, he stated that Zakir said the Ahmadiyyas are outside the ambit of Islam and people should not take their children to Ahmadiyya or Christian schools.
"Dr. Zakir attended St. Peters High School in India, so why should he tell people not to attend Christian schools. Zakir will not visit a country once or twice without problem in those countries. That's why he was banned in many countries and his visit to the country brings us some problems."
He continued that in January 2015, there was a publication by SIC that Ahmadis should not be buried in Muslim cemeteries.
"Sunday 30 August 2017, when one of our members Mr. Masrit Dibba died at Kerr Sering and we brought him to Tallinding and buried him there. On 1 September 2017, we were called at Talinding Police Station. We were asked whether we have any permit from SIC and Sheriff Bajang, the vice president of SIC said that we are non-Muslims and we should not bury our people there. Spt. Kambi openly took part by defending SIC in that case."
On the sighting of the moon, he said they never have problem with the government, because they obeyed their announcement.
He continued that one of their lands at Farato-Jambur was occupied by some people; adding that they took the matter to court and it was ruled in their favour, however, hundreds are still occupying the place.
"We have more than 50, 000 members and we are law abiding. If we had reacted, it would have been another thing but we are peaceful people."
He further told the commission that on Saturday 20 May 2009, he was arrested by late Louis Gomez and Demba Mbaye and taken to NIA. He added he met his colleagues from GRA, saying they were released on June 2009 and he was dismissed.
In his concluding remarks, he called for the word 'secular' to be put in the new constitution, in order to avoid the problem we are encountering.
Read Other Articles In Article (Archive)