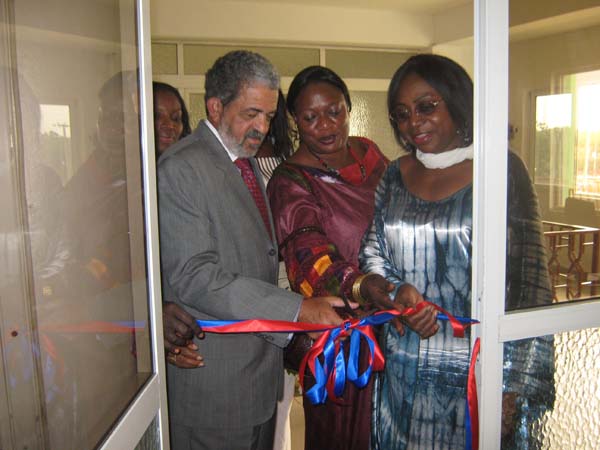 United States Ambassador to The Gambia, HE Barry L. Wells last Thursday officially opened the American Chamber of Commerce (AmCham) office in The Gambia.
The AmCham office, which is located at the former Camelot building along Kairaba Avenue near the Traffic Lights junction, is just opposite the Kanilai Bakery.
The opening ceremony was attended by the Speaker of the National Assembly, officials from the Ministry of Trade and members of the private sector, among others.
Speaking at the occasion, Ambassador Wells said the new office will open doors for an important dialogue about international trade opportunities and investment.
"It is no secret that the private sector is the driving force behind economic development and sustainability of any country," he said.
The US Ambassador revealed that at the embassy level, they have been steering efforts to promote trade and investment between the two countries, and part of that effort was to bring about the presence of the American Chamber of Commerce in The Gambia.
According to Ambassador Wells, the Chamber of Commerce is a voluntary partnership of business and professional people working together to build a healthy economy, and to improve the quality of life in a community.
He further announced that AmChams are involved in a range of issues from health care, to transportation, education and workforce development.
AmCham, he added, can help promote both exports and imports, and is a channel through which many lucrative business relationships are formed.
He added that it can also serve as a driving force for the expansion and growth of the economy, tourism and investment.
"Our intention is to attract more American businesses to The Gambia, and provide a portal for communication and development of commercial interests," he further said.
The chief American diplomat in Banjul said that this is an opportunity for the country to showcase its potential and begin competing heavily with other West African nations.
Ambassador Wells expressed hope that this would be a vibrant dynamic chamber that will attract a lot of opportunities under AGOA.
The Executive Chairperson of the American Chamber of Commerce, Sylvia Crace George, said that the opening of the office in the country would boost trade relations between the two countries.
She added that it would further create a range of opportunities between The Gambia and the US. "We would work together towards exploiting and importing of goods and services," she declared.
Bai Matarr Drammeh, the President of the Gambia Chamber of Commerce and Industry, GCCI, hailed Ambassador Wells and his dedicated team for strengthening trade ties between The Gambia and US.
He encouraged the GCCI members to as well join the cooperation with AmCham, while assuring his American counterparts of his full support.
Read Other Articles In Article (Archive)