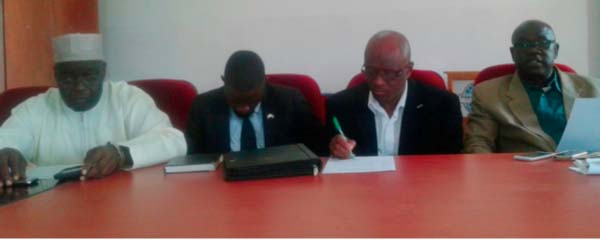 AmCham in collaboration with Empretec Gambia and the Startup Incubator Gambia yesterday briefed journalists on Global Entrepreneurship Week (GEW).

The briefing was held at the American Chamber of Commerce office along MDI Road.
Speaking at the conference, Abdoulie M. Touray, resident representative of Global Entrepreneurship Network, said the network is helping in the creation of awareness and has membership in more than 200 countries.
He said the idea of the network is to promote the virtues of entrepreneurship, which would bring means of self-reliance and adding value to products, goods and services, hence create innovation, technological advancement and economic employment.
Mr Touray further said that there are various components connected to the GEW, and among them is the Women Entrepreneurship where women are empowered.
The other component concentrates more on the small businesses, in which The Gambia is making significant strides.
Also speaking was the Chief Executive Officer of American Chamber of Commerce, Kebba T. Njie, who said Empretec is a programme that is out to support and modify the behaviors of entrepreneurs in the country.
"It is a model that is proving to be the one of the best models in entrepreneurship in the world," he said, adding that it has supported and helped a lot of entrepreneurs to be successful in business.
The model is a very good one that is recognized worldwide, and it is franchised in 37 countries, including The Gambia, he added.
He said since then over 1300 young entrepreneurs have being trained and assigned advisers.
In his remarks, Alieu Jallow of Startup Incubator Gambia spoke of Startup Incubator Gambia success stories, saying it has trained many young entrepreneurs in the country.
Read Other Articles In Article (Archive)