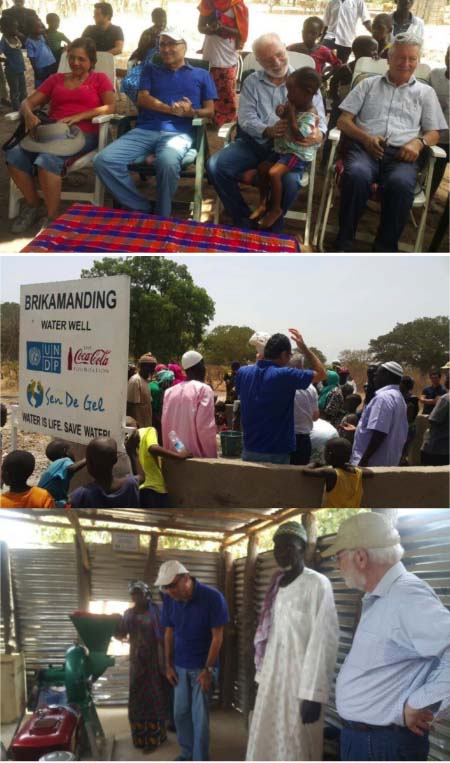 Upon the invitation of Sen De Gel, a Turkish Non-governmental Organization (Support for Improvement in Social and Economic Living Association), the Turkish Ambassador H.E. Ismail Sefa Yuceer and his wife Madam Yuceer attended the inauguration ceremonies of water wells and women's garden projects on 8th and 9th May, 2017, in Genieri, Kwinela, Brikamanding and Bajana Villages in the Lower River Division.

The event was also attended by the founder of the Sen De Gel Organisation, Mr Ibrahim Betil, SDG's Country Coordinator, Mr Tuncay Bozkurt, the former Gambian Ambassador to Ankara, H.E. Gibril Joof, other team members of the NGO and voluntary contributors to the NGO, Representatives of the relevant Governorship and Alkalos of the above mentioned villages.
SDG would continue their inauguration ceremonies throughout the week, respectively, in the villages of Kerr Amadou, Kerr Njugary and Kerr Samba Chargi all in the North Bank Region and in the villages of Fololo and Sare Jama, Lower River Region.
Mr Betil and delegation will also visit a water well that was inaugurated by the organisation in Missera Village, Lower River Region.
SDG has been operating in The Gambia for the last five years and the total value of the projects realised by this organisation in The Gambia corresponds to $2 million USD (about 92,000,000 million Dalasis).
The NGO SDG is a non-profit civil society organisation aiming to realise sustainable projects of quality to fight poverty, create employment, to add value to people's lives where it is needed.
So far it has touched the lives of more than 300,000 people in The Gambia with the support of its donours and volunteers.
The Turkish NGO SDG is not operating only in The Gambia, but has already implemented various humanitarian projects in Senegal and Guinea Bissau as well.
The glimpses of the smiling faces of especially women, children and elderly people in the areas where the SDG has been operating, further encourages the representatives of the above mentioned organisation and the Turkish Embassy to show our solidarity with our brothers and sisters in The Gambia.
Read Other Articles In Article (Archive)