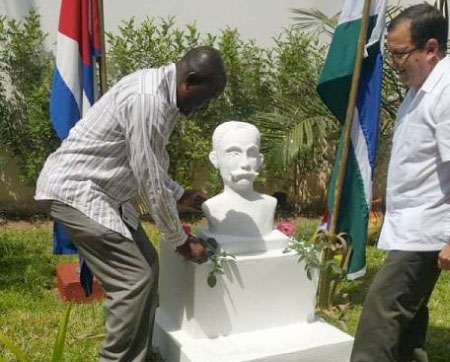 Banjul, Feb. 11 - The Gambian deputy and head of the Health Commission of the Parliament of this African nation, Ousman Sillah, today paid tribute to José Martí, before the newly erected bust in honor of the National Hero of Cuba at the diplomatic headquarters of the largest of the Antilles here.

Sillah and his host, the Ambassador of the Caribbean Island, Rubén G. Abelenda, deposited flowers before the sculpture of Martí, prior to a friendly and friendly encounter, in which they agreed to strengthen interparliamentary relations between their respective countries, and increase even plus those existing in health care.
The legislator for the Popular Democratic Organization for Independence and Socialism Party (PDOIS) highlighted the solidarity and humanitarian assistance provided by the Cuban Medical Brigade (BMC) that has been working in the Gambia for more than two decades.
He added that his people will be eternally grateful to the doctors and care staff of the Dean of the Antillean archipelago who during all these years have healed and saved the lives of many of his countrymen, always with love and affection.
Next, the deputy said that Gambia and Cuba have to support each other because they are two small countries twinned by friendship, solidarity, their blood ties and history.
For his part, Ambassador Abelenda highlighted the hospitality and fraternity of the Gambians, and took the opportunity to thank all the nations of this continent for the support given to their country in the long struggle against the blockade imposed by the United States.
In that regard, he stressed that the eve, in Addis Ababa, the African Union (AU) adopted for a time, with the unanimous vote of its members, a new Resolution that rejects the illegal economic, commercial and financial siege of Washington to Cuba.
The diplomat concluded by pointing out that the grateful will always be accompanied.
Read Other Articles In Article (Archive)