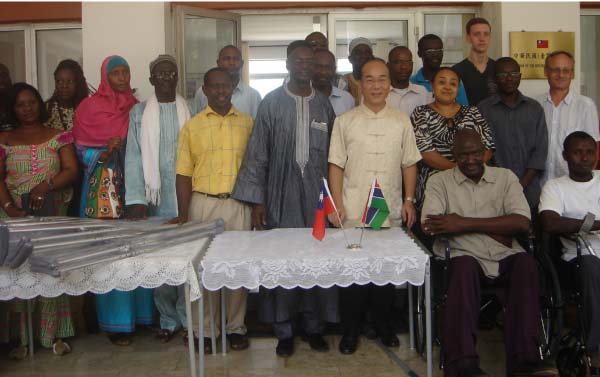 The Ambassador of the Republic of China on Taiwan on 12 September presented wheelchairs and crutches to persons with disabilities in the country.
Up to 200 wheelchairs and 100 crutches were donated by a Taiwanese NGO called Pushien Foundation.
Speaking at the handing-over ceremony held at the ROC embassy in Bakau, Ambassador Samuel Chen said the gesture was made out of love.
According to him, Buddhism Pushien Foundation is one of the biggest religious NGOs in Taiwan, and their work covers education, food aid provision, charity work among others.
The foundation, he said, has been donating between 250 and 300 wheelchairs to The Gambia for the past six years.
In the past, wheelchairs were donated to the Jammeh Foundation for Peace Hospital and many other hospitals but this year the foundation decided to give them to NGOs supporting the disabled through TANGO.
He thanked the Ministry of Health and Social Welfare for their help and TANGO for their collaboration in the project.
TANGO Director Ousman Yarbo said there are good organizations in the country that are very well working to alleviate the plight of persons with disabilities.
Speaking earlier, Sainey Camara, deputizing the director of Social Welfare, also applauded the donors through Ambassador Chen for the gesture.
The gesture would help to address the mobility constraint of the physically challenged, he noted.
In his vote of thanks, Kebba K. Barrow, TANGO Programme Officer for Networking, said the donated items would be of great help to their member associations.
Muhammed Yahya Bah, chairman of Gambia Association of Physically Disabled (GAPD), expressed gratitude to Pushien Foundation for the assistance.
He stressed that the gesture was a dream come true for him as there are so many physically challenged persons in the country who are without mobility aid.
"We are very happy to receive these wheelchairs and crutches from today from Pushien Foundation through Ambassador Chen," he said.
Read Other Articles In Article (Archive)