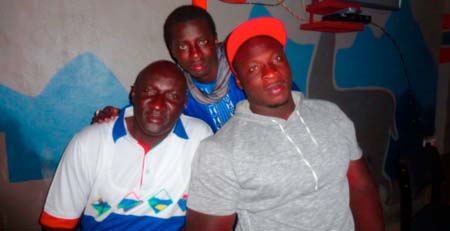 Ama Baldeh, a Senegalese and a popular wrestler are currently embarking on a massive tour in The Gambia to contest on wrestling competition.
However, Mr Baldeh was hosted for a dinner at a reception held at Amie's Fast Food, Bar and Restaurant under the supervision of Mr Musa Suso of Sukuta last Monday night.
Speaking in an interview with The Point upon his arrival at the reception Mr Baldeh thanked the Almighty Allah for giving him the strength and the ability to contest in wrestling competition.
He also thanked the people of The Gambia for their hospitality and Mr Musa Suso for hosting him at his restaurant and his fan club.
Asked about his motivation for becoming a wrestler Mr Baldeh said he was inspired by his father who was a great wrestler during his youth days. He therefore grew up to follow his footsteps.
"I am very content with wrestling and anything I have from it I will share it with my loved ones,"Ama Baldeh told this reporter.
To my supporters, I always have leisure time with them and chart with them "if they are in good and bad time"
"About the game I personally thank God and glad that we have ended it peacefully, all the Gambians came out in an unexpected number to cheer with us; Gambia and Senegal are like brothers and sisters. Since I arrived in The Gambia, I have just been shown love and care, which I really appreciated," he said.
"I pray that may peace and tranquility prevail, and I want to emphasize to Senegal back home that there is nothing in The Gambia other than peace because since my stay here peace is all I have seen."
He then seized the opportunity to thank Mr Musa Suso for his love and care, partnership and for organizing a "wonderful reception" at his restaurant in Sukuta,
For his part, Mr Musa Suso, manager of Amie Bar and Restaurant, was very excited about the coming of the famous Senegalese wrestler and his fan club to his restaurant.
He acknowledged their coming and assured them of his support at all time. Ama Baldeh was accompanied by many Gambians and Senegalese who are members of his fan clubs. 
Read Other Articles In Article (Archive)