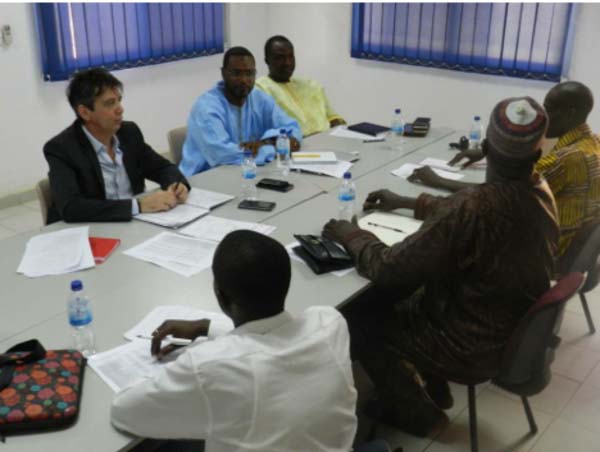 On Friday 25 May 2017, the Alliance Française de Banjul held its annual general assembly meeting in which elections were conducted for the board members.

Dr Cherno Omar Barry, permanent secretary II Ministry of Higher Education, Research, Science and Technology, was re-elected as the chairman of the board of directors for another two years; thus being his final mandate.
It should be noted that since the Alliance Francaise premises were inaugurated in 1996 by Mr Baboucarr Jagne, former Minister of Foreign Affairs, several prominent personalities became the chairman of the board of directors.
Notably: Dr Mamadou Tangara, Permanent representative of The Gambia to the UN in New York; Hon. Abdou Colley, former Minister of Finance and Economic Affairs; Hon. Dr Momodou Sidat Jobe, former Minister of Foreign Affairs and Current Gambian Ambassador in Paris, France; Hon. Musa Sillah, Islamic Development Bank Regional Director and former Minister of Trade; and Lawyer Bola Carol, International Lawyer.
Established in 1956 in The Gambia, Alliance Française de Banjul, a Gambian association of French lovers and francophones, is part of the international network of 800 Alliance Françaises that annually welcome over 450,000 students to their language classes, and over 6 million people to their cultural events.
Affiliated to the Alliance Française Foundation in Paris, it is also part of the French cultural network in the Senegambian region, made up of Alliance Françaises of Kaolack, Ziguinchor and Banjul and the Institute Français of St Louis and Dakar.
Alliance Française de Banjul is a language school and cultural centre that does not only provide French classes to both adults and children at very competitive prizes and within an environment well equipped with the latest technology and the most experienced teachers available in the Gambia, but also host live concerts, exhibitions and conferences as well as drama shows, workshops, fashion shows and radio programmes.
The newly-constituted Board of Directors is expected to steer the affairs of the institution through a promising two years when the French Government has singularly identified the Alliance Francaise to train the Gambian military and civil servants as well as host several other meetings and conferences relevant to accompanying the New Gambia to a more just and strengthened governance structure.
In addition to these activities, the Alliance Francaise will serve as an intermediary through its Director and Chairman of Board for the French Government support to education, research and other crucial areas of interest to The Gambia.
Meanwhile, following some extra budgetary support received from the French Government through the French Embassy in Dakar, there is rehabilitation work going on to transform the library into a digital multimedia centre where Gambian researchers can access materials at a minimal subscription cost and Francophiles can enjoy the access to the latest information and documentation at the tip of their fingers.
The Board members are Dr Cherno Omar Barry (Chairman), Mr Baboucarr Cham, City Limits (1st Deputy Chairman), Mr Andrew Sambou, PEO MoBSE (2nd Deputy Chair), Dr Ndeye Maty Paye, Assistant Professor UTG (Secretary), Ms Fatou Sanneh, Senior Producer GRTS (Communications Officer), Mr Momodou Jallow Retired Accountant (Treasurer), Mr Edward Diantrec Badjie, Lecturer UTG (Assistant Treasurer), Dr Mariam John Counsellor Ministry of Foreign Affairs (Member), Mr Sheriff Yunus Hydara, Project Manager PCU MoBSE (member), Djibril Diallo Private Businessman (member), Ms Mariama Cisse Kalala, Private Sector (member), Mr Andrew Correia, French Teacher (Member), and Mr Claude Poggioli, Director Alliance Française de Banjul (Ex-officio member).
Read Other Articles In Article (Archive)