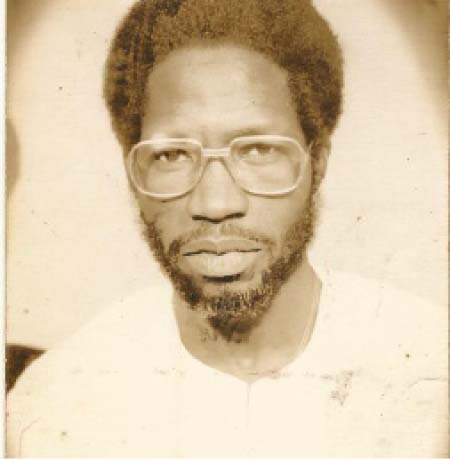 Alhaji Babou Sowe, a veteran footballer and artiste, passed away yesterday Thursday at the Edward Francis Small Teaching Hospital in Banjul, aged 79.
Hundreds of people attended his funeral and burial at the Old Jeshwang cemetery.
Babou Sowe was a footballer and artiste, and represented The Gambia on many occasions in overseas cultural and sporting activities.
He played football with Starling, Augustinians, and Walidan Football Club, which he gave the name Walidan in 1969.
He played for the Gambia national football team for several years, and was also the manager of the Gambia national team in the 70s.
Babou Sowe was also a great artiste. He was a member of Banjul Drama club, then the National Drama.
He has contributed to the development of culture, and was the anchor of the famous weekly programme called "Banjul Demba" on West Coast Radio every Wednesday afternoon at 4 pm.
Peter Gomez, the managing director of West Coast Radio, said Babou Sowe's demise was a big loss not only for West Coast Radio, but The Gambia and beyond.
At the Independence Drive Mosque, where the funeral prayers took place, his friends and relatives paid tribute to him, as did the Banjul Muslim Elders.
Alhaji Alieu Mboge, Secretary General of the Banjul Muslim Elders, said Babou Sowe has contributed in the socio-economic development of the country. "He was a good Muslim, who loves peace and uniting people."
Alhaji Serign Secka said Babou Sowe has contributed to the development of football and culture, and that he and Babou Sowe represented the team at many international matches.
Veteran muscian Ousou Njie Senor, said he has composed songs for Babou Sowe with his friends, Michelle Ndure and Aziz Coker, for their contribution to the development of the country.
"Babou Sowe was my mentor, and has contributed to my success as a singer and he always encouraged me to be a good musician," he said.
Alhaji Mbaye Chow, his childhood friend, said Babou Sowe has contributed to the unity of all Banjulians, and worked for the betterment of the city.
He was an effective member of the community policing committee in Banjul.
He always advised people to abide by the law; that whenever they have differences, they should settle matters before going to the police station.
Pap Saine, co-publisher of The Point newspaper, said Babou Sowe was an elder brother and a great friend.
He said they were together for the past 45 years, and he used to cover Sowe's football matches when he was a footballer and a manager of the national football team, and used to travel with him.
Babou Sowe was a man of great respect, and a very friendly person. 
Read Other Articles In Article (Archive)