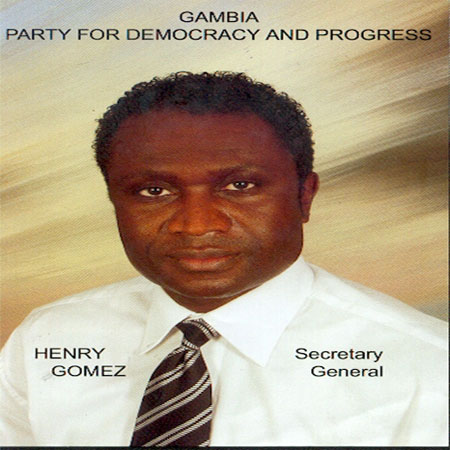 GPDP Yet to Decide
Barely three weeks to the much-talked about National Assembly by-election in Nianija constituency, the opposition Gambia Peoples Democratic Party (GPDP) has revealed through its leader Henry Gomez that they are "yet to decide as to whether they will contest the elections".
These comments by the GPDP leader come barely a week after the main opposition United Democratic Party (UDP) through its campaign manager also revealed that they are not certain as to whether they will also join the race for the Nianija seat.
According to the GPDP leader, even if his party is not going to contest the elections, they like every Gambian are praying for peaceful and fair elections.
"We cannot say whether the GPDP will contest or not but we are wishing the contesting parties good luck and urging them to maintain peace. This is just election. We should maintain the peace and tranquility that The Gambia has been known for," Mr Gomez asserted.
Despite announcing that they will be taking part in the elections, the opposition National Reconciliation Party (NRP) is yet to name its candidate. However, the ruling APRC party has named its candidate for the race and latest reports from Nianija constituency, a supposed APRC stronghold, have it that the party is drumming up more support to retain its seat.
The elections, slated for Thursday 18th December 2008, follow the expulsion of Mr. Dawda Manneh, the erstwhile National Assembly Member for the said constituency from the ruling APRC party on whose ticket he was elected to the National Assembly.
This follows his arrest on Saturday 13th September 2008 together with one Demba Baldeh, an ex-soldier working as a Security Guard at the Central Bank for allegedly trying to smuggle a large quantity of cannabis sativa, locally called "jamba".
"We are yet to decide on the elections but we just want to urge all Gambians to accept the final decision from the Independent Electoral Commission (IEC). The loser should also accept the results," he added.
Turning his attention to a recent interview carried in this paper, Mr Gomez expressed what he described as his profound apologies to whoever his views carried on the interview affected.
"I am appealing to any stakeholder who might feel offended by my views on the interview to please accept my apologies," he said.
In the GPDP leader's view, this was not meant to attack any body, but they were only his honest opinions. "This was just my honest opinion but it was not geared towards attacking anyone. It was all about maintaining peace in this country but if anybody feels affected, please accept my apologies," he added.
Read Other Articles In Article (Archive)