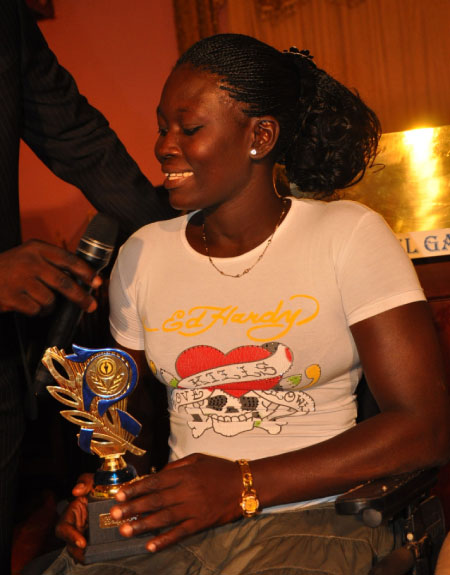 The Gambia National Paralympic Committee (GNPC) is set to organize an exhibition for the two athletes going to the London Paralympics Games 2012 this month.
Sulayman Colley, president of the GNPC, said the aim of the athlete day celebration is to portray issues relating to Paralympics Games nationally and internationally.
The exhibition, Colley said, will make it possible for Gambians to know the athletes that will represent them in the London Paralympics Games 2012.
"We want the media to talk about it so that the Gambians will know that we are also doing our quota in national development," he said, adding that the event will start with a road race by Demba Jarju, who will be accompanied by Isatou Nyang, from Tabokoto to the KMC ground.
A platform will be set to tell stakeholders how the Paralympics committee came to this level, he added.
"We will also organize a reception where we will invite stakeholders and people concerned to discuss issues relating to disability sports in the country and for the London games," he said.
He revealed that so far the team has got some air tickets and logistics and that they are hoping the team will leave the country for London on 21 August 2012.
"Whoever wants to complement our efforts to come onboard in anyway they can, will be appreciated," Colley said. "We need the prayers of the Gambians for the athletes."
Mr Colley also outlined the reason behind the team's failure to take part in the London training camping ahead of the games.
"We were supposed to have a training camp in London, for which we signed an agreement with Bedford Shire but we need to pay some funds prior to the games.
"But the situation is that we could not have anybody to pay for the camping fees of 25,000 pounds, which is a refundable amount that the London organizing committee will refund after the game. We had to stay back and the team has been training since then."
The training camp, he said, would have been good for the athletes, as it will give them the opportunity to have access to the modern facilities that would be used in the games itself and to familiarize themselves with it.
This is the first time the Gambia Paralympics is taking part in such a competition; so it is like a trial but also a learning process for the next Paralympics Games.
"Nonetheless, we expect our athletes to perform well and show the world that little Gambia is also capable of sending athletes to such events," he said.
Isatou Nyang was voted the 2010 Sports Journalists Association of the Gambia Paralympics Player of the year during a July 2nd National Sports Award in 2011.
She swept home this accolade from fellow contenders Demba Jarju and Malang Tamba, who are also nominees for the title. Isatou was the only sportswoman to have won an award during the 2010 SJAG award, making her a solid athlete.
Read Other Articles In Article (Archive)