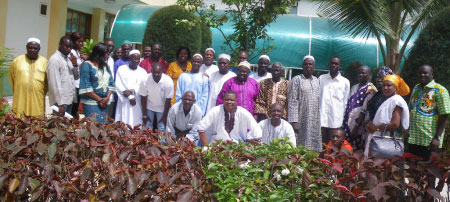 Ministry of Agriculture officials met with technical staff and project coordinators last Friday in order to plan for the next cropping season. The meeting was arranged to discuss issues of concern relating to project implementation, resources mobilisation, and other issues vital to the country's agricultural development.
The Minister of Agriculture, Solomon Owen, spoke at the meeting. He said: "In the course of this meeting, we will examine and analyse reports on the implementation of interventions…with a view to consolidating achievements and addressing shortcomings in tandem with last year's crop failure and to pave the way forward for better collaboration with all stakeholders for increased agricultural production and productivity."
Agricultural development in The Gambia, like in many other developing countries, continues to face various challenges which pose significant setbacks to development efforts. Prominent among these challenges are unpredictable and unreliable climate conditions, crop and animal pests, degraded soils and the high cost of inputs.
In his speech, Mr Owens said that one way of tackling these challenges is to invest in research and delivery systems that address the increasing demand for improved agricultural production.
He also proposed that the meeting should be used to explore strategies for knowledge sharing on tools and mechanisms that can contribute to the generation and management of reliable agricultural data for better planning and informed decision making.
Mr Owens assured the participants that the Cabinet will examine recommendations from the meeting.  He said: "I am of the strong conviction that the solution for improved agricultural productivity for the enhancement of food security, and the transformation of our country from net importer to net exporter of agricultural products rests on our commitment to collaborate and conduct business…with a more multi-faceted and interdisciplinary approach."
Read Other Articles In Article (Archive)