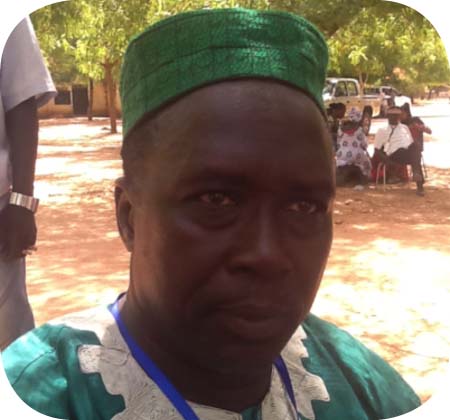 [if gte mso 9]>
<![endif] [if gte mso 9]>
Normal
0
false
false
false
EN-US
JA
X-NONE
<![endif][if gte mso 9]>
<![endif] [if gte mso 10]> <![endif] StartFragment
The Governor of Lower River Region, Salifu Puye, has underscored the important role of the media in effecting positive change in agricultural practices, through promoting best agricultural practices, promoting agricultural technologies, promoting positive attitudes and perceptions and promoting an effective farming community.
He said journalists are powerful catalysts to effect positive change in agricultural development, adding that their role as journalists is key in ensuring that farmers have better understanding of agricultural project activities.
There was a need for journalists to be more focused in disseminating information on agricultural project activities, as there was a need for the visibility of projects in the regions.
The LRR Governor made these statements while delivering his official opening speech at a three-day training session for media practitioners on collection and dissemination of agricultural information, held recently at the Rural Farmer Training Centre in Jenoi village in the Lower River Region.
The training course was attended by representatives from both the electronic and print media, and was organised by the Communication, Extension and Education Services (CEES) under the department of Agriculture and funded by the West African Agricultural Productivity Programme (WAAPP).
It aimed at exposing the participants to the importance of communication, types of communication, communication for development, the advantages and disadvantages of various types of agricultural communication, role of journalists in development communication, message development techniques, and media and agricultural information, among other topics related to agricultural development.
In presenting a paper on the role of the media in agricultural development, Ibrahim Jam Jawo, a communication specialist, explained that the media could be crucial in helping farmers' access information that they need and in transmitting their concerns.
However, it is a mistake that most communities are depending on the mainstream media to do this, and that the reason for this was probably because, most of the time, other media like the newspapers mainly rely on secondary information for publication.
Mr Jawo stated that the journalists' job was not to be the public relations tool of the development organisation or the ministry of Agriculture or of the farmers' organization.
Journalists' job was to find and tell good stories, and if people do not understand that distinction they are never going to be satisfied with what journalists do, he said.
Talking about agents of change, Mr. Jawo said, traditionally the use of the media had been about communicating research messages when there are success stories, in particular.
He added that journalists have the potential to be more of agents of change themselves, as they are quite in a unique position, potentially being the voice of policymakers, the voice of farmers and the voice of researchers.
Journalists could potentially be quite a powerful catalyst for change, he went on, adding that taking radio production to the community could give a voice to the rural poor, and allow their concerns to be heard by a wider audience.
Giving the inadequate role of agricultural extension as a result of resources and their constraints, farmers could depend on the media as a complementary source of information.
He said the media could also provide a platform through which farmers could engage with policymakers, so that their perspective could be taken on board, adding that the media could also profile the workfarmers do so that lessons and experiences could be shared.
The training was part of a work plan developed by WAAPP's communication committee for the effective implementation of the WAAPP Gambia communication strategy.
During the three-day interactive session, participants were exposed to various topics which included the importance attached to communication to effect change, promote positive attitudes and perceptions and promote good agricultural best practices; the role of the media in agricultural communication and communication for development.
Recommendations of Participants:
1.Communication Extension Education Services under the department of Agriculture should continue engaging the media by way of training, debriefing and other activities;
2.The Ministry of Agriculture should ensure that a communication component is included in all Agricultural projects;
3.Increase number of participants in future training sessions including community radio representatives;
4.Support to the Network of Agricultural Communicators by the Ministry of Agriculture based on needs assessment;
5.Improved communication between Communication Extension Education Services and Media houses; GRTS in particular, through regular dialogue and follow up of information intended for broadcast;
6.The Ministry of Agriculture should create a budget line for Communication Extension and Education Services ;
7.West African Agricultural Productivity Program WAAPP should implement the communication action plan developed by the WAAPP Communication Committee;
8.Communication Extension and Education Services CEES should periodically update the list of media focal points for Agriculture.
EndFragment
Read Other Articles In Article (Archive)