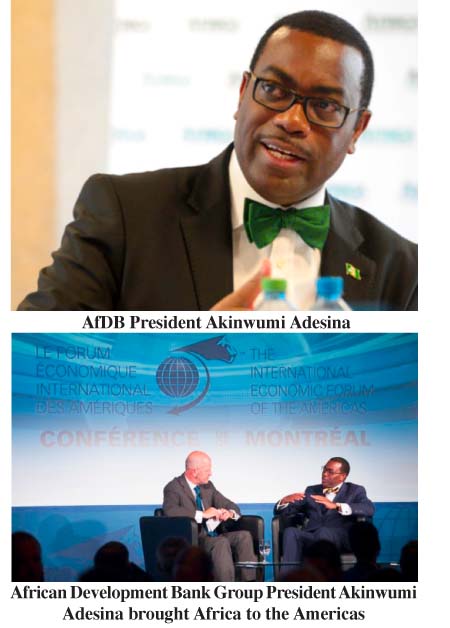 For three days this week, African Development Bank Group President Akinwumi Adesina brought Africa to the Americas, and the AfDB to Canada, as the co-chair of the 22nd International Economic Forum of the Americas - Conference of Montreal. The Forum closed on Thursday.

It was the President's first official visit to Canada since assuming office on September 1, 2015, and he delivered impassioned speeches that touched on issues ranging from Africa's huge, and largely untapped, potential for renewable energy; climate change and fragility; women's financial empowerment; youth employment; and the migration crisis in Europe. He also thanked Canada for its continued support to the Bank and the African Development Fund, which contributes to poverty reduction and economic development in the most impoverished countries.
The President's role as conference co-chair began with the Chairman's Dinner on Tuesday evening at the Mount Royal Club, where he addressed some 100 business executives, and concluded - three speaking engagements and about 24 hours later - at a VIP cocktail hosted by the Government of Ontario.
On the sidelines of the conference, Adesina held bilateral meetings with the Premier of Quebec, Philippe Couillard, and Quebec Minister of International Relations and La Francophonie, Christine St-Pierre, and with Jean Lebel, President of the International Development Research Centre in Ottawa.
With Couillard, Adesina outlined the Bank's High 5 priorities – Light up and power Africa, Feed Africa, Industrialise Africa, Integrate Africa, and Improve the quality of life for the people of Africa. He also called for increased cooperation and investment in Africa, particularly in the areas of energy and agro-business.
On Wednesday morning, Adesina was the guest-of-honour at a VIP breakfast at the Montreal offices of Dentons, a global law firm. He launched into a lively dialogue with former Prime Minister Jean Chretien on Canada's engagement in Africa, with both calling for more public- and private-sector investment on the continent.
At a Royal Bank of Canada luncheon, Michel Fortier, Vice-Chairman, RBC Capital Markets, sought Adesina's views on the migrant crisis and the threat of terrorism on the continent.
"Nobody wants to be poor," said Adesina, who lamented the number of young Africans risking – and losing – their lives in their quest for a better life in Europe. "If you look at the confluence of factors – environmental degradation, high levels of joblessness and poverty – quite honestly, idle hands are the devil's workshop. So it's very easy for terrorists to move around rural areas in Africa, which have become zones of economic misery because there are no more economic opportunities left. If you do some mapping and look at where the terrorists are recruiting, you see that is where you have environmental degradation and poverty." In order to reduce the risks of migration or terrorism, those zones need to be transformed into zones of economic prosperity, he said, which is why the African Development Bank has launched the Jobs for Youth in Africa (JfYA) initiative – to keep young Africans at home, and to create 25 million jobs and train 32 million young people over the next decade.
The consensus was clear that Adesina, the Bank and Africa had played a big role in a conference on the Americas, and brought Canada much closer to Africa.
At the closing cocktail, the Bank President congratulated Marie-France Lalonde, the new Ontario Minister of Government and Consumer Services and Minister Responsible for Francophone Affairs, on her appointment just two days earlier.
"There's something very unique about this forum," Adesina said, calling it a more intimate version of the World Economic Forum in Kigali, Cape Town or Davos. "I have found these discussions so great."
"As we talk about prosperity in Africa, let us not forget that the women are the most important. We have to do more for them. At the African Development Bank, we've made a decision that we need to empower women. Just three weeks ago, we launched a major effort – what we call Affirmative Finance Action for Women in Africa – which is a bold effort to leverage US $3 billion specifically for women-run enterprises in Africa. And for good reason: 97% of women pay back their loans, and the remaining 3% that didn't pay them back, it's because their husbands stopped them on their way." Source: AfDB (Abidjan)
Read Other Articles In Article (Archive)